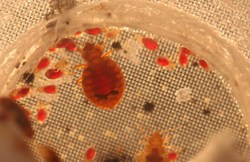 ...it [Bed Bug Bully] could kill bed bugs in seconds without emitting harmful gases that could compromise anyone's health or pollute the environment.
New York, NY (PRWEB) August 08, 2013
Because they are fast and small, bed bugs could infiltrate any place. According to a report from medicaldaily.com, they were even able to sneak their way into New York Health Department. And in response to it, My Cleaning Products again warned the city's residents of the pests. It also offered them help with complimentary bed bug spray.
The report, published on August 06, 2013, said that the infestation affected five of the twenty-one floors of the department's office, My Cleaning Products related. And though the building was just three years old, it shared that this reported bed bug incident was already its second case.
In the news, it was said that an estimated 316 million dollars was already spent by the health department to solve the problem, shared MCP. However, it relayed that the office denied they were infested by bed bugs.
Here is an excerpt from the post Bed Bugs Infest New York Health Department by My Cleaning Products.
"New York is now considered a hotspot of bed bugs. And with the high number of people going in and out of it everyday, it's not a surprise.
But though bed bugs are known to trespass any place, a recent report about those vampire-like insects infesting Big Apples' health department shocked many. After all, health departments everywhere are expected to be the first ones to know how to prevent their presence."
Though they are not considered as health threats, My Cleaning Products said that bed bugs still need to be prevented or eliminated. As it explained, they could cause inconveniences, annoyance and anxiety that generally destroy wellness.
However, when getting rid of the pests, it cleared that the process must be immediate. That's so bed bugs could be prevented from multiplying and requiring costly professional help, it said.
Even with a prompt bed bug treatment though, MCP cited that one couldn't completely eliminate those crawlies without help. And among the many products, it asserted that Bed Bug Bully is that best help bed bug victims could get.
With its advanced formulation of organic ingredients, the company stated that the public could rest assured that it is both effective and safe. It detailed that it could kill bed bugs in seconds without emitting harmful gases that could compromise anyone's health or pollute the environment.
To prove those benefits true, it urged the public to try the product. It related that Complimentary Samples of Bed Bug Bully is available at MyCleaningProducts.com.