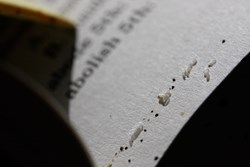 ...it [Bed Bug Bully] is even considered as pesticide-exempt as it leaves no harmful residues as other pest-control products do.
Lawrence, KS (PRWEB) September 13, 2013
The scheduled book sale of Lawrence Public Library this fall was canceled. And as determined in a report from ljworld.com, bed bugs were the culprit. Stating that their discovered infestation is a confirmation of their presence everywhere nowadays, My Cleaning Products suggested to the public the use of a bed bug product classified as pesticide-exempt.
According to the report, posted on September 11, 2013, the book sale was organized by the non-profit group Friends of the Lawrence Public Library, My Cleaning Products shared. As scheduled, it detailed that it was supposed to take place on September 26-29 at Douglas County Fairgrounds.
The report said that the infestation was confirmed last week and caused about two thousands books to be quarantined, MCP relayed. It elaborated that the donor of the less than 100 contaminated books called the organizers informing them of the presence of the pests in the materials he donated.
Jeni Daly, Lawrence Library spokesperson, said in the report that they would have to cut down their programs due to the cancellation of the book sale. The event contributes to the library about $70,000 annually.
Here's an excerpt from the post Bed Bugs Scrubs Lawrence Library Book Sale by My Cleaning Products.
"Lawrence Public Library holds a book sale every spring and fall. However, no thanks to bed bugs, the one scheduled for fall this year was canceled. And as said, the same thing could also happen to the other one planned for spring of 2014.
A report from one Lawrence website stated that the contamination of bed bugs started from less than 100 books donated for the book sale. The donor of the affected materials gave the organizers a call informing them of the presence of the vampire-like critters in them."
Because bed bugs are now almost everywhere, My Cleaning Products said that there are more reasons to be ready to detect and get rid of them early. And as it stated, one major way to find them easily is to conduct inspection regularly.
However, when it comes to eliminating the pests, it recommended DIY bed bug treatment instead of hiring bed bug exterminators. It reasoned that it is much less expensive and appropriate for infestation detected early as there are still few of the critters to eliminate.
Nonetheless, of all the bed bug sprays to use in a personal bed bug elimination, MCP asserted that Bed Bug Bully is the best. And that's because it is effective all while being safe as proven by hotels, hospitals and pest-control companies, it stated.
Made with organic ingredients, it elaborated that it isn't like any other pesticides. In fact, it stated that it is even considered as pesticide-exempt as it leaves no harmful residues as other pest-control products do.
To prove all those claims true, the company urged the public to try it. And as it detailed, there are Bed Bug Bully Complimentary Samples that everyone could get and test at its official website MyCleaningProducts.com.