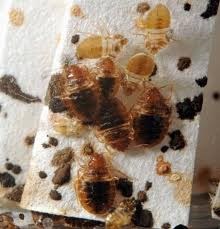 Bed Bug Bully does not contain harmful chemical ingredients, it emits no foul odor. Moreover, it said that it leaves no harmful residues.
New York, NY (PRWEB) September 23, 2013
In the past few weeks, bed bugs were sighted in New York's Health Department office located in Long Island. However, a report from nydailynews.com posted on September 29, 2013 said that it was only last Tuesday that their presence was officially confirmed. And stating that several others are surely experiencing the same crisis, My Cleaning Products suggested a pesticide-exempt product to help.
The report stated that the official announcement of the said bed bug presence was made late Tuesday night, shared My Cleaning Products. And as it detailed, it was through an email.
Based on the report, the electronic mail addressed to the department's employees, stated that it was a group of the pest that was particularly found, relayed MCP. The location of them, it added, was a spot on the 11th floor of the building.
To address the problem, MCP related that the department carried out inspection, vacuuming, steam-cleaning and spraying as determined in the report. Further, the employees were educated about bed bugs, asked to declutter their desks and advised to put their things in plastic bags, it relayed.
Here's a part of the post Bed Bugs Found in NY Health Department Office by My Cleaning Products.
"New York is one of the cities known to be highly-infested by the blood-feeding and annoying bed bugs. Hence, a report of their infestation in any of its parts is not much of a surprise. But that's with the exception of their health department given that it is expected to know how to prevent the bugs very well.
On Tuesday night though, that expectation was crushed – officially.
In the past several weeks, there were already reports about sightings of bed bugs in the city's Long Island office. However, it was only last Tuesday that the presence of those crawlies was formally confirmed to the employees via an email."
MCP said that the news about bed bugs infesting a health department shows that even though a person knows too well how to prevent bed bug infestation, still, it could happen. So, it advised everyone to be always ready to kill bed bugs.
However, it said that one doesn't really have to spend big to do that. But of all the methods of inexpensive bed bug treatment, it asserted that a DIY process with the help of a bed bug spray is the most convenient.
According to My Cleaning Products, the bed bug spray is the only thing that a person has to pay for in a personal bed bug elimination. And as it added, though one had to do the rest of the work, it's not really much as the bed bug victim just have to find the pests and spray the product.
But as it specified, just any spray will not do in a DIY bed bug treatment. It said that it got to be safe to protect the health of the people living or staying in the treated area. And considering that Bed Bug Bully is organic-based, it is said that it's one best to use in the process.
As MCP explained, because Bed Bug Bully does not contain harmful chemical ingredients, it emits no foul odor. Moreover, it said that it leaves no harmful residues. Thus, among all the other products, it highly recommended its use. Nonetheless, to anyone who wants to test it first, it shared that Bed Bug Bully Complimentary Samples are available at MyCleaningProducts.com.