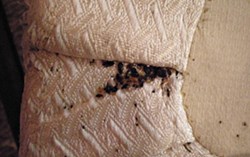 ...it [Bed Bug Bully] is pesticide-exempt as it is made with organic ingredients. So, it poses no risk to health or the environment.
Lynchburg, VA (PRWEB) September 27, 2013
Bed bugs were troubling an apartment complex in Lynchburg. And according to a report from wset.com, posted on September 25, 2013, they have been doing that for a year already. So, wanting to help the residents put an end to it, My Cleaning Products recommended a pesticide-exempt solution for an effective and safe bed bug treatment.
As the report determined, the infestation covered most of the said housing, My Cleaning Products related. And though the management planned a routine spraying for a year to resolve the problem, it stated that the pests kept on plaguing the complex.
To succeed on kicking the pests, Shawne Farmer, the Executive Director of Lynchburg's Interfaith Outreach Association, said in the report that the residents must also exert effort, shared MCP. She specified that the tenants must throw everything infested by the critters and must not pick items from the streets, it relayed.
Here is an excerpt from the post Lynchburg Apartment Infested by Bed Bugs for a Year by My Cleaning Products:
"Bed bugs carry with them a lot of problems. And based on a recent report, they sure brought a lot of them to the residents of one Virginia housing."
"As it was said, those blood-feeding crawlies have been causing an apartment complex in Lynchburg major problems for a year already. And while, actions are being taken to get rid of them, they are being persistent."
MCP said that a single item could indeed start a bed bug infestation and cause a place to struggle from it for a long time. Because of that, it stated that the public must avoid bringing home used items and not let anything in without inspecting.
However, it pointed out that bed bugs are sneaky and their infestation is always possible despite preventive measures. So, besides the mentioned tips, it also advised everyone to have a ready bed bug spray. As it explained, the product will enable anyone to kill bed bugs promptly if ever they show up.
Of all the bed bug sprays in the market though, My Cleaning Products asserted that Bed Bug Bully is the best to purchase. It said that it is pesticide-exempt as it is made with organic ingredients. So, it poses no risk to health or the environment. Moreover, it stated that it is a product proven effective by hotels, hospitals and pest-control companies.
To prove those benefits true, the company announced that there are samples of them available for testing. Anyone who wants a Bed Bug Complimentary Sample, it said, could just go to MyCleaningProducts.com.