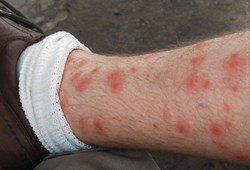 Compared with other bed bug sprays, MCP stated that Bed Bug Bully is the better choice. And as it said, that's because it is both effective and safe.
Tucson, AZ (PRWEB) October 07, 2013
Bed bugs had taken over a woman's apartment in a Tucson residential complex. A report from kvoa.com shared the details about it on October 03, 2013. And in response to it, My Cleaning Product suggested to the resident the use of a pesticide-exempt bed bug spray to kill bed bugs promptly and effectively.
The report determined that the unit infested is at Park Village Apartments, My Cleaning Products shared. And the woman suffering from the infestation, it added, was identified to be the 61-year-old Lilia Quiroz.
Besides the bite marks on her and her daughter, it was said in the report that the vampire-like pests also forced Quiroz to sleep on the floor, MCP related. Based on her statement, it added that she had to put her mattress and bag of laundry on her porch because of the infestation.
To solve the problem, Quiroz stated in the report that the management of the complex did not do much, MCP further shared. Though they sent an exterminator and a bed bug spray, it related that both were ineffective. If not for the intervention of a news network, it stated that no further action could have been taken. But because of it, it related that the management said it would send another exterminator to the unit and the Pima County Health Department stated that it would conduct an investigation on it.
Here is a part of the post Bed Bug Take Over a Tucson Apt Unit by My Cleaning Products.
"Emotionally talking about their situation, Quiroz shared that the critters took over her bed that she now just sleeps on the floor of her unit. She added that they also got into her clothes that apart from her mattress, her bags of laundry now rest on her porch as well. And worse, she and her daughter also have bed bug bites all over."
Bed bugs could bring in inconveniences and big spending, said My Cleaning Products. Given that, it stated that one must be ready to prevent or kill bed bugs. And if it's the latter that is needed, it asserted that it got to be promptly implemented. As it explained, that will prevent the pests from multiplying and requiring a costly professional treatment.
However, to get the prompt bed bug treatment done, MCP stated that bed bug spray is needed. Among the many bed bug solutions available though, it only recommended Bed Bug Bully.
Compared with other bed bug sprays, MCP stated that Bed Bug Bully is the better choice. And as it said, that's because it is both effective and safe. It elaborated that hotels, hospitals and pest-control companies have already proven that it efficiently works. Moreover, it cited that EPA already recognized it as pesticide-exempt because of its organic ingredients. Now, it shared, it is included in the FIFRA 25(b) list.
With those advantages, MCP said that no doubt Bed Bug Bully is the right product for a prompt bed bug treatment. And to prove that true, it announced that it would be giving out Bed Bug Bully Complimentary Samples. It detailed that anyone could get one at MyCleaningProducts.com.