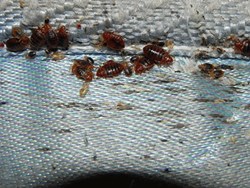 Of all the bed bug sprays though, the company only advised the use of an organic-based product...it only recommended Bed Bug Bully.
Memphis, TN (PRWEB) October 10, 2013
Bed bugs were a problem in one Tennessee apartment complex. A report from wate.com on October 08, 2013 stated that the residents had been complaining about a massive infestation of them. So,in response to it, My Cleaning Products suggested to the residents and the rest of the public an organic bed bug spray to help.
As identified in the report, the infested complex was the Grayson Apartments in Alcoa, My Cleaning Products stated. And as it added based on the statement of two of its residents, the infestation in the place was massive.
In the report, MCP related that one of the tenants, Tihisha Jones captured 34 bed bugs and placed them in a plastic bottle to prove that they are present. Another resident, it relayed, described the number of the said vampire-like pests to be at millions. Nevertheless, it said that they believe the managers were not doing enough to solve the problem.
According to the news post, the recent bed bug case wasn't the first infestation in the complex, MCP further shared. It detailed that last year, Alcoa Codes Enforcement was also there three times in response to the same complain.
Here is an excerpt from the post Bed Bugs Strike Tennessee Apartment by My Cleaning Products.
"Bed bugs aren't the only pests that could infest your place. However, they're probably the most annoying insects that you ever have to deal with. And facing severe infestation of those vampire-like crawlies themselves, residents of one apartment complex in Tennessee could surely prove that statement correct.
That affected complex is basically the Grayson Apartments in Alcoa. The infestation in it is said to be so severe that a tenant, named Tihisha Jones, even decided to just move out of the building."
MCP said that bed bugs are actually more of an annoyance than a health threat because they don't transmit diseases. However, it said that there are more than enough reasons to eliminate those pests. And as it cited, that elimination must also be promptly implemented.
If bed bugs are not cleared promptly, My Cleaning Products stated that the pests could double their number and multiply the inconvenience and expense that they could bring quick. So, it advised the residents and everyone else to always look out for bed bug signs and to immediately respond to it.
Of all the bed bug sprays though, the company only advised the use of an organic-based product. And as it cited, that's to protect people's health.
But among those kinds of organic sprays, it only recommended Bed Bug Bully. Besides being organic, it shared that it is effective so it said that it is the best for the process. It elaborated that EPA has already recognized it as pesticide-exempt and classified it under FIFRA 25(b). Moreover, it said that hotels, hospitals and pest-control companies had already proven that it efficiently works.
To prove all of the product's benefits, MCP also announced that it was giving out samples of it. It detailed that the Bed Bug Bully Complimentary Samples are available at MyCleaningProducts.com.