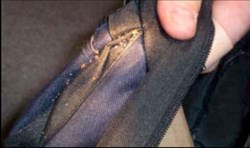 Because of the absence of chemical ingredients, it added that it [Bed Bug Bully] is also safe for health and even the environment.
Newark, OH (PRWEB) October 29, 2013
Bed bugs were found in an Ohio high school last month. And according to a report from abc6onyourside.com, the incident was repeated last week. In connection with it, My Cleaning Products shared some techniques how to effectively kill bed bugs and prevent their comeback.
Based on the report, dated October 25, 2013, the Ohio campus infested last September was particularly Newark High School, My Cleaning Products related. The discovery of the pests in it, it shared, led to the resignation of an estimated 100 students of its students despite officials' denial of an infestation in the school.
However, on October 21 and 22, the report stated that the critters were again spotted at the school, MCP relayed. They were specifically sighted on the backpacks of its two students, it detailed.
The return of the pests, as said in the report, worried the parents, MCP related. So, in response to it, it stated that the officials worked with Licking County Health Department to eliminate the pesky insects. Nonetheless, it added that they cleared no chemical spray was used in the process to protect the health of the students.
Below is an excerpt from the post Bed Bugs Back to Newark High School by My Cleaning Products.
"They are small yet bed bugs could cause you huge troubles. And if you're not keen with your treatment procedures, they could bring you the same problems over and again like it did to Newark High School in Ohio."
MCP stated that though bed bugs are not actually health threats, still, they have to be eliminated. It said that they could cause a lot problems and could even be too hard to get rid. And so, before their small presence becomes an outbreak, it asserted that they must be eliminated.
However, to prevent the return of those pests, My Cleaning Products said that the treatment must also be effective apart from immediate. It stated though that while bed bug sprays are the best help to get that done, not all of them are safe to use. That's because most of the insecticides today contain harsh chemical ingredients, it elaborated.
But, being made with organic ingredients, MCP said that Bed Bug Bully is different. As proven by hotels, hospitals and pest-control companies, it stated that it is effective. Because of the absence of chemical ingredients, it added that it is also safe for health and even the environment. And because of all that, it asserted it is truly the right spray for a bed bug treatment, especially that it is already in EPA's FIFRA25(b) list.
To prove that the product is really beneficial, My Cleaning Products encouraged everyone to try it. The Bed Bug Bully Complimentary Samples are available at MyCleaningProducts.com.