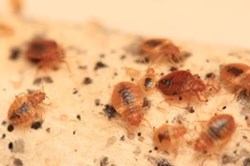 It [Bed Bug Bully] is made with organic ingredients so it leaves no residues that could harm anyone's health and even the environment.
New York, NY (PRWEB) December 04, 2013
More bed bugs were predicted to show up in 2014. In response to it, My Cleaning Products gave out some bed bug prevention advises and suggested a bedbug spray in an effort to help the public battle the crawlies.
It was said in a report from sacbee.com dated December 02, 2013 that entomologists have agreed the worst of bed bug infestation has yet to come despite the already high number of cases this year, My Cleaning Products stated. Companies and business offering products and services for bed bug prevention and elimination also expressed the same opinion, it related.
The report stated that according to the data from a National Pest Management Association survey, the percentage of pest-control experts who confirmed dealing with bed bugs this year rose to 98 percent from just 90 percent in 2011, MCP shared. Moreover, it relayed that sales of bed bug products from 2010 have continued annually hinting the same trend for the coming year.
Nonetheless, experts said in the report that education could save someone from the bed bug infestation.
Here's an excerpt from the post Bed Bugs Expected to Increase in 2014 by My Cleaning Products.
"Bed bugs have become a bigger problem this 2013 compared to years before. However, the worst of their presence isn't yet here."
"According to a survey by the National Pest Management Association, this year, 98 percent of pest control experts have confirmed their encounter with the critters for the past 12 months. Compared to the 90 percent rate in 2011, that's a significant jump."
Education on bed bug prevention is indeed essential, said My Cleaning Products. However, it stated the public must consider the fact that those critters are sneaky pests. Hence, besides taking preventive steps, it stressed that everyone must also be ready to kill bed bugs early.
With early bed bug elimination, MCP cited that one could prevent a massive infestation. And that, it pointed out, avoids huge bed bug spending as well.
To be prepared to eliminate those crawlies, MCP stated that one could get a bed bug spray ahead. However, it warned the public that there are many unreliable products for sale. With their harsh chemical ingredients, it said that they could worsen the problem instead of solving t.
And so, to ensure that the elimination is safe, it recommended the use of Bed Bug Bully. It explained that it is made with organic ingredients so it leaves no residues that could harm anyone's health and even the environment. When it comes to its effectiveness, it said anyone also got nothing to worry about as hospitals, hotels and pest-control companies have already proven that it works.
However, for those who want to see it themselves how effective it is, MCP shared that there are Bed Bug Bully Complimentary Samples they could get at MyCleaningProducts.com.