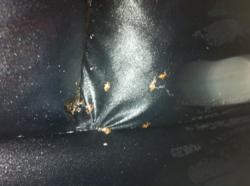 ...the bed bug spray to use must be safe. And being organic, it said that Bed Bug Bully is the best as it is also effective.
Indianapolis, IN (PRWEB) December 11, 2013
Bed bugs were discovered in yet another school. And wanting to help its officials and all the other bed bug victims, My Cleaning Products then suggested a pesticide-exempt bed bug spray.
In a report from fox59.com, posted on December 10, 2013, Arlington High School was cited as the school affected by the incident, My Cleaning Products shared. And as it detailed, parents were informed about it via a letter late last week.
However, though the school confirmed the bed bug issue, the report stated that in the letter sent to parents, Principal Alicia Hervey cleared that only one of the critters was found. Additionally, because anyone could bring in the crawlies to the building, she said that there may still be future sightings of the pests.
Here is an excerpt from the post Bed Bug Found Indianapolis High School by My Cleaning Products.
"Bed bugs are now so prevalent that even campuses are troubled by them. And according to a report, the latest of which to have a taste of their pesky presence was a high school in Indianapolis.
Particularly, it was Arlington High School that was most-recently linked with those tiny vampire-like critters. But though the school confirmed the issue, it said that only a single bed bug was seen in the campus last week."
My Cleaning Products said that bed bugs are so prevalent these days that they now trouble even schools. However, it stated residences are still the most-susceptible to their presence.
Because of that, MCP advised the public to exert an effort to prevent the critters. Moreover, it told everyone to always be ready to kill bed bugs as they are sneaky. Doing so, it said, could prevent the worst of the things those crawlies could bring.
To be prepared to eliminate bed bugs, MCP said that must have a bed bug spray prepared. With it within reach, it elaborated that one could immediately implement treatment soon after the pests are detected.
However, the company stressed that the bed bug spray to use must be safe. And being organic, it said that Bed Bug Bully is the best as it is also effective. It said that hotels, hospitals and pest-control companies had proven that it truly works. Not only that, it cited that it is already in EPA's FIFRA 25(b) list.
To prove those advantages true, MCP also urged the public to test the product themselves. It shared that Bed Bug Bully Complimentary Samples are available for them at MyCleaningProducts.com.