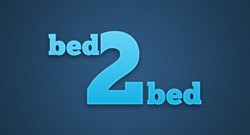 Houston, TX (PRWEB) December 13, 2013
Comparing mattress brands can be a productive and useful step when looking for a new bed, but researching and gathering the relevant information can be time consuming and confusing for many shoppers. BedEd, a blog on mattresses and sleep, aims to make the process easier with their ongoing Bed to Bed series which compares brands side by side to show the specifications and pros and cons of each.
In the latest installment of the series, "Bed to Bed: BedInABox vs. Amerisleep", the blog looks at two memory foam mattress brands with similar positioning. Both companies are sold primarily online and both target the mid-range price sector of the marketplace, though a few key differences are present in their product lineups, as highlighted in the article.
The Bed to Bed article begins by offering a brief introduction to each company, with an overview of the product line ups. Both companies sell direct online and offer U.S. manufactured beds. BedInABox features six different mattresses with regular and gel memory foam ranging between 9 and 15 inches in thickness. All beds have three inches of 3 lb density memory foam with 2.4 lb cores. Amerisleep features five mattress models with plant-based memory foam. Their lineup utilizes varying amounts of 4.5 lb and 5.3 lb memory foam, with 2.0 lb mattress cores.
After the initial introduction to the the brands and their products, BedEd delves into the comparison, offering both a quick summary in chart format and a more detailed text overview. Factors compared include price, foam specifications, mattress covers, owner reviews and complaints of heat, odor and sagging, as well as trial period and warranty.
While both brands have similar pricing and above-average owner satisfaction in consumer reviews on their websites and on third party review sites, slight differences are made apparent in the comparison. For example, BedInABox uses low density memory foam while Amerisleep uses medium and high density foams, although BedInABox's cores are slightly more dense. Cover materials also differ, and some BedInABox models include layers of fiber fill above the memory foam.
Other contrasts are drawn in the memory foam brands' product guarantees. Both offer a 20 year limited warranty, though Amerisleep covers sagging over 0.75 inch for the first 10 years while BedInABox only covers sagging over 1.0 inch the first 5 years and over 1.25 inches for years 5 through 10. However, Bed In A Box offers a 120 day trial while Amerisleep offers a 90 day trial.
Amerisleep ultimately had the higher owner ratings according to BedEd's research, with 92% of consumers satisfied compared to 86% of BedInABox owners. Amerisleep reviews also had fewer mentions of problems like heat retention, odor, or impressions, although BedInABox also fared better than average on scores of heat and durability.
For readers interested in additional comparisons, BedEd's series has also recently compared Simmons Curv, Serta iComfort, Tempurpedic and other companies. In addition to brand comparisons, the website also offers helpful shopping guides, sleep-related news and other informative articles.
BedEd.org is a mattress education blog dedicated to providing informational resources to shoppers. The blog features impartial assessments of mattress types, brands, and other sleep related products, developed via first party research, third party reviews, and expert research and opinion. In addition, readers receive useful sleep quality tips and news on the latest mattress developments.