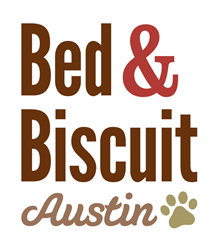 Therapy assistance dogs are something I'm personally passionate about. - Kara Crawford Norton
Austin, Texas (PRWEB) May 29, 2014
Bed and Biscuit Austin is pleased to announce that they have joined Divine Canines as a participating retailer during their inaugural Barks for Beers fundraising event. As a participating retailer Bed and Biscuit Austin will be offering the special Divine Canines pint glass for sale at their facility.
The Barks for Beers Fundraiser
Barks for Beers is bringing together numerous Austin craft brewers in support of a worthy dog therapy organization. The cost is $20 per pint glass, which can be used to receive a free beer at eight breweries around Austin from May 23 through June 2, 2014. The proceeds from the glass sales will aid Divine Canines in their work training therapy dogs and their handlers.
Barks for Beers participating breweries include:

Adelbert's Brewery
Austin Beerworks
Circle Brewing Co.
Hops & Grain
Jester King Brewery
Rogness Brewing Company
Thirsty Planet Brewing Company
Twisted X Brewing Company
"I got involved with the Barks for Beers inaugural event because one of my clients is the head of fundraising for Divine Canines, a therapy dog organization that is growing rapidly in Austin," said Bed and Biscuit Austin owner Kara Crawford Norton. "It's important to me to support my client, and because therapy assistance dogs are something I'm personally passionate about."
In addition to training dogs and their owners to act as a therapy team, Divine Canines organizes therapy dog visits with local special care facilities. Their services are free to Austin area children, the elderly and wounded soldiers that are battling disease, illness and injury.
To learn more about Bed and Biscuit Austin, as well as their participation in local events like Barks for Beers, please visit: http://www.BedandBiscuitAustin.com.
About Bed and Biscuit Austin
Bed and Biscuit Austin is a dog boarding, training and grooming facility in Austin, Texas, that has been helping owners take care of their four-legged family members for 20 years. Under new ownership in 2009, Bed and Biscuit Austin became one of the premier training centers for both dogs and their owners. The staff now includes an animal behavior consultant, animal care specialists and certified dog trainers that are all passionate about caring for canines.