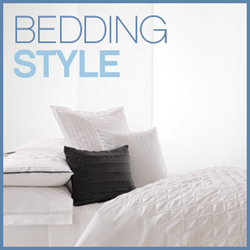 "We're thrilled to offer our client's Wedgwood's latest bedding collections at reduced prices."
New York, NY (PRWEB) April 29, 2015
BeddingStyle.com, an online supplier of designer bedding and home fashions, announced today the expansion of its inventory with the addition of designer bedding by Wedgwood one of the most prestigious providers of luxury home and lifestyle products in the world. In addition to bedding, the brand designs luxury dining, gifts, and décor.
Known for its inventory of well-known trusted brands such as Tommy Bahama, Nautica, Vera Wang, and Teen Vogue, BeddingStyle.com added Wedgwood to its portfolio to satisfy its growing clientele who want the best brands at affordable prices.
"Wedgwood has been the leader of design and quality in the luxury home and lifestyle industry for more than two centuries," said Peter Roman, BeddingStyle.com's E-commerce Director. "We're thrilled to offer our client's Wedgwood's latest bedding collections at reduced prices."
Available on BeddingStyle.com, Wedgwood offers a variety of elegant and contemporary bedding collections, including luxury comforter sets, duvet covers, shams, and decorative pillows. Some of the brand's most recent collections include Florentine, Wild Strawberry, Acanthus, Laurel Leaves, Intaglio, Sweet Plum, and Daisy. All Wedgwood bedding boasts quality fabrics and unique styling. Most collections feature subtle floral motifs, clean lines, and soft hues, making it easy for men, women, and couples to find a collection that fits their personal style and budget.
"Shopping for bedding is a very personal experience and most people are often loyal to their preferred brands or styles," said Peter Roman. "By offering the top brands, a higher level of service, and an easy online shopping experience, BeddingStyle.com is making it possible for clients to have the designer bedding they want at the prices they can afford."
Wedgwood bedding is now available at BeddingStyle.com. To shop the latest bedding collections and king comforter sets by Wedgwood and other leading designer brands, visit BeddingStyle.com. The online company offers free shipping on orders over $99 shipped within the continental U.S.
About BeddingStyle.com
Launched in 2004, BeddingStyle.com ships first quality adult, teen and kids bedding to customers around the world. The online company offers top-rate customer service, affordable prices, and high quality designer, brand-name and luxury bedding.
Contact
Peter Roman
BeddingStyle.com
(212) 894-3110
http://www.beddingstyle.com