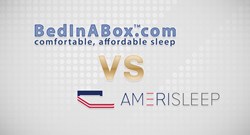 Johnson City, TN (PRWEB) August 28, 2013
Often when people begin shopping, they narrow down the vast selection by comparing products and brands to see which are most suitable. In the mattress industry however, conducting detailed comparisons can often prove difficult and tedious for the average shopper. Mattress blog BestMattress-Brand.org puts their bed knowledge to use with articles contrasting various mattress brand and types designed to aid consumer mattress research.
The latest of the website's comparisons looks at two online brands of memory foam mattresses. Titled "Affordable Memory Foam: BedInABox vs Amerisleep", this article compares the two brands on several factors to highlight differences that may be relevant to shoppers.
First, Best Mattress Brand introduces each line with a brief overview of the product offerings, explaining that both Amerisleep and BedInABox are online-only retailers that offer memory foam beds made in the USA and shipped compressed.
The comparison of the two brands begins with a table offering an overview of the more technical aspects of each brand, including foam density, odor and heat performance, and guarantees. Detailed explanations of of seven factors follow: quality, heat, health, responsiveness, covers, durability and guarantees.
While the article explains each aspect in depth, the primary differences between the two brands are identified as foam density and cover types. Amerisleep's plant-based memory foam mattresses utilize 4.5 lb density memory foam, while BedInABox's plant and gel memory foams come in a 3.0 lb density. The blog reviews how density relates to quality and durability as well as manufacture claims in the description.
On the topic of mattress covers, Amerisleep uses bamboo blend covers, while BedInABox uses different fabric blends as well as layers of quilt foam and polyester in some models. The article details how additional padding layers may diminish memory foam's comfort benefits and may create durability issues.
Other differences were noted in warranties, trial periods, and complaints on odor. While warranty terms were similar, Amerisleep's warranty covers impressions at 0.75 inches, while BedInABox covers impressions of 1 to 1.25 inches. BedInABox offers a 120 day return period compared to Amerisleep's 90 days, but requires customers to wait 60 days before returning. On the issue of odor, both brands are Certi-Pur certified to be low-VOC and free of a range of hazardous chemicals, but Amerisleep reviews indicated considerably fewer complaints of odor.
For readers seeking a more specific contrast, the final portion of the comparison looks more in depth at one model from each brand, the Amerisleep Americana and BedInABox PacBamboo. While Best Mattress Brand does not recommend one brand over the other, they highlight differences that can help readers with their comparisons and remind shoppers to weigh the performance and value against personal needs and preferences.
BestMattress-Brand.org is a mattress research blog designed to provide information to mattress shoppers. With a mission to make bed shopping easier, editors provide unbiased assessments of manufacturer claims and customer satisfaction. The blog also features industry news and brand reviews based on first and third party research, and offers weekly newsletters for subscribers.