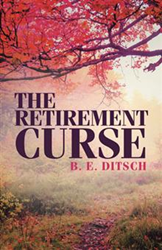 Cassopolis, Mich. (PRWEB) March 20, 2015
Many argue that raising a child is the hardest job a person can ever have. Because of this, raising a child alone can be considered an extremely difficult job. Author B.E. Ditsch draws from personal experience to tell the story of various women, all raising children alone while struggling in their pursuit of retiring, in her new novel "The Retirement Curse" (published by LifeRich Publishing).
Set in South Bend and Mishawaka, Indiana, "The Retirement Curse" follows various women who are all hoping to soon retire. As the women begin retiring, they also begin dying. Panic soon settles over the town, as the women struggle to figure out if the other women are dying from natural causes, or being murdered.
Throughout "The Retirement Curse," readers will watch as the women race to solve the mystery. Filled with humor, thrills and suspense, Ditsch hopes her book will entertain readers while showing them the dangerous effects of greed in society.
"The Retirement Curse"
By B. E. Ditsch
Hardcover | 5.5 x 8.5 in | 266 pages | ISBN 9781489703590
Softcover | 5.5 x 8.5 in | 266 pages | ISBN 9781489703606
E-Book | 266 pages | ISBN 9781489703583
Available at Amazon and Barnes & Noble
About the Author
B.E. Ditsch describes herself as a fun and loving woman with a bit of a devious side. She currently works in manufacturing. "The Retirement Curse" is her first novel, but not her last. She lives with her husband, Terry, in Cassopolis, Michigan. Together they have three children and 11 grandchildren.
LifeRich Publishing, the strategic publishing partnership of Reader's Digest and Author Solutions, LLC, was created to provide all writers a platform for sharing their stories, recipes, advice and more. LifeRich authors will benefit from a wealth of editorial design, marketing and education resources, specially created by Reader's Digest editors for the enrichment of these LifeSmart individuals. Books can be published in print, ebook or audio formats, with additional distribution to up to 25 million Reader's Digest customers through its online properties. Follow @LifeRichPub on Twitter or "Like" us at facebook.com/LifeRichPublishing for the latest updates.