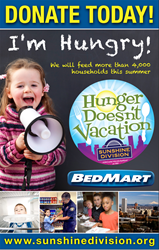 Portland, Oregon (PRWEB) June 18, 2014
When the final school bell rings in June, not everyone is excited for summer vacation. For the 20,000 Portland area children eligible for free or reduced-price lunch, summer can be a time of increased hunger. Many families find it difficult to fill the gap created by the loss of school meals. BedMart Mattress Superstores, the largest family owned mattress retailer in Oregon and the Sunshine Division are stepping in to combat summertime hunger and increase awareness through their third annual Hunger Doesn't Vacation campaign.
"This campaign is a direct reflection of BedMart's company mission and values," said Elana Stone, BedMart's spokeswoman. "Our number one focus is the comfort and support for the families we serve everyday. No one should go hungry, especially children. Hunger Doesn't Vacation means a lot to BedMart and to me personally."
Beginning June 18th, BedMart Mattress Superstores and the Sunshine Division will accept food and cash donations to support the third annual summer campaign in hopes of providing children with nutritious food during their summer vacation. Donations can be made at all 26 BedMart locations. Financial donations can also be made at http://bit.ly/HungerDoesntVacation.
"Summer is a uniquely challenging time for us, because donations often drop as people focus more on family time, fun, and relaxation," says Kyle Camberg, Executive Director of the Sunshine Division. "With BedMart's help we're hoping to spread the word that hunger isn't seasonal and doesn't go away in the summer in fact it worsens for many kids, and we need help to service the increase in needs."
To address immediate needs the Summer Food Box Delivery day will be held on June 21 from 9am-12pm. Drivers are needed help deliver food boxes to the homes of struggling families with children in Portland. Volunteers can RSVP to kris(at)sunshinedivision(dot)org or call 503-823-2176.
About Portland Police Bureau Sunshine Division
The Sunshine Division offers emergency food assistance six days a week at their warehouse as well as 24/7 through their partnership with the Portland Police Bureau who store food boxes at each police precinct that can be dispatched to those in need at any time. In addition to food relief they also offer new and gently used clothing to those in need. For more information, visit http://www.sunshinedivision.org
About BedMart Mattress Superstores
BedMart is a locally owned and family operated business serving Portland, Bend, and Salem Oregon. Since 1992, we have been offering our customers the best selection of mattresses at the best price. We offer an extensive line of mattresses and accessories including innerspring, memory foam, latex, allergy friendly, and natural mattresses, bed protectors, and pillows available. Our professionally trained sleep experts are here to assist you in finding the right mattress for your body.