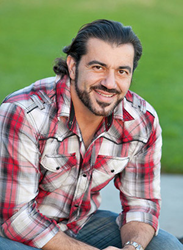 Keuilian is a business consultant who has dedicated his life to helping fitness professionals
Chino Hills, Calif. (PRWEB) January 16, 2015
Bedros Keuilian has produced and distributed a new video sharing the results of an industry survey that polled 100,000 fitness professionals. The video presents the results of the survey, Keuilian's interpretation of those results, and features informed predictions indented to assist fitness professionals as they grow, launch, and develop fitness businesses throughout 2015.
Keuilian is a highly sought-after and renowned fitness business and marketing consultant who has "dedicated [his] life to helping fitness professionals achieve their dreams of success and financial freedom." He works with many individual coaching clients and also hosts numerous business summits and events throughout the year, all designed to propagate the most effective fitness business strategies and solutions. His many websites, blogs, products and conferences are each created as a place for fitness professionals to connect, share, and learn how they can grow their businesses.
Each year Keuilian distributes an industry survey to his contact list of personal trainers, fitness boot camp owners, fitness authors, product inventors, and other fitness professionals. And each year, the survey asks the same three questions designed to shine a spotlight on the status and health of the industry.
"Most certified fitness professionals," said Keuilian, "are highly trained in their craft. They spend years studying and honing the ability to train and transform their clients. But none of this fitness training offers any business education. That's where I come in.
"Because of the nature of the industry most fitness professionals must also be entrepreneurs and business owners. But without the vital training needed to run successful businesses, many of them fail."
This unfortunate reality is precisely why Keuilian has produced his newest video featuring trend predictions that will aid thousands of fitness professionals as they operate in 2015's slowly recovering economy.
About Keuilian Inc.
Keuilian Inc. (est. 2007) was founded by fitness marketing and business consultant Bedros Keuilian, who has been named the "hidden genius" behind several of the biggest names in the fitness industry. In addition, he is also the founder of the popular fitness marketing blog, PTPower.com, and founder and CEO of the indoor fitness boot camp franchise, Fit Body Boot Camp.
To learn more about Bedros Keuilian and his fitness boot camp franchise, please visit:http://www.ptpower.com/ and http://www.myfitbodybootcamp.com/