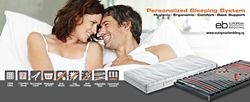 Singapore (PRWEB) May 08, 2014
In the past, Singaporeans had to buy bedding products which were not necessarily designed with Singapore in mind. European Bedding has changed all that with their mould resistant, breathable latex mattresses and well ventilated sprung slatted bases. The warm humid climate in Singapore makes it easy for mould to grow in even the cleanest of homes. Fortunately, latex is naturally mould resistant, and additionally offers excellent air circulation, due to a pattern of pinholes and to the open cell structure of latex. The circulation of air, enhanced during our natural nightly movements, allow Singaporeans to sleep cooler and fresher in this warm climate.
The core philosophy at European Bedding is straightforward, explains General Manager Sylvestian Yap. "Bring a very good product at a good price." The results go above and beyond making people happy with a good buy, he adds, citing his focus on health: "You spend one third of your life in bed, and therefore investing in a good sleeping system is necessary."
This strongly health-conscious stance from European Bedding is evident in all facets of its products. Firstly, latex is a natural product harvested from the sap of the rubber tree. In contrast, virtually all alternative mattress materials are of synthetic chemical origin. Additionally, European Bedding mattresses and pillows are made of 100% latex and do not contain springs. Metal can act as an antenna for radiation (latex is naturally springy so a latex mattress never needs springs). Furthermore, a latex mattress uniquely delivers sufficient elasticity and strength for proper spinal support and health: "Bungee jumpers use latex ropes", Mr. Yap notes. Also, in addition to being mould resistant, latex is resistant to bacteria, dust mites and allergens.
For the ultimate in hygiene, all European Bedding mattresses come with a removable cleanable mattress cover. The cover can be easily zipped off for washing or dry-cleaning, depending on models. This is not only hygienic, Mr Yap notes, but it also fits our philosophy of honesty and openness: we show you what is inside the mattress. Nothing to hide.
The bed bases from European Bedding are also designed with Singapore in mind. Made of beech wood, the adjustable slatted bed bases allow good air circulation below the mattress for a cooler and more hygienic sleep. Couples who prefer different comfort levels like these ergonomic bases, because the firmness can be changed on each side separately.
Accountability is also important to Singaporeans, and European Bedding offers high quality European brands, which comply with international standards and have been tested by independent testing institutes. These products are long-lasting and durable, suited for the discerning Singaporean, who cares about quality and does not want to spend valuable time and money replacing his mattress frequently.
Latex mattresses are widely acclaimed as being one of the most comfortable mattress types. This is because latex is springy enough to be soft and comfortable, but still firm enough to offer optimal back support. The latex mattresses from European Bedding are designed to suit individual needs and individual health.
Many Singaporeans, especially those with babies or young children, are becoming increasingly concerned about environment friendly products. To fulfil that demand, European Bedding adopted an organic latex line, called "Heveya". Heveya mattresses are made with latex, sourced from its organic certified latex plantation and the production is done in a sustainable way, with care for the environment and workers. Mattress covers are made from bamboo fibres, which have a natural fresh feel and are mould resistant by nature, without the use of chemicals. This also means there are no worries about pesticides or other chemicals in the mattress.
European Bedding products can be purchased conveniently via the online store at http://www.europeanbedding.sg/. There is also a showroom available for those who wish to try the products in person. To eliminate customer risk, European Bedding offers an in-home trial. This allows customers to sleep for a month on a mattress at home with the option of a replacement if the customer is not satisfied (terms and conditions apply).
Company Information:
European Bedding specializes in high quality bedding products with a focus on health and comfort. Bedding components are sourced carefully from manufacturers around the world, especially from Europe, and are brought to Singapore. Unlike most other bedding companies, European Bedding sells directly to the customer without a middleman.
Contact:
Sylvestian Yap, General Manager
Email: info(at)europeanbedding(dot)sg
European Bedding Pte Ltd
391B Orchard Road #23-01
Ngee Ann City Tower B
Singapore 238874
Showroom located at Grange Road (by appointment only)
Telephone: (+65) 6735 6658
###