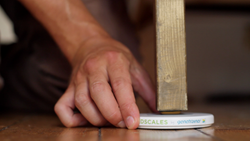 Bedscales users discover how their sleep and weight interact with exercise, lifestyle choices, and the environmental characteristics of their bedroom.
San Francisco, CA (PRWEB) October 30, 2013
Bedscales, Inc. announces the launch of an accurate, no-hassle solution to home sleep and weight tracking. The novel approach -- high-precision weight sensors under the legs of the bed -- allows the product to develop accurate body weight and sleep quality data by processing the minute variations in pressure exerted by the sleeper on the bed.
Existing products -- sleep tracking wristbands, bathrooms scales, etc. -- compromise on accuracy, convenience, or user experience -- and sometimes all three. By contrast, Bedscales is easy to install, virtually invisible in daily use, and provides meaningful, actionable data about the user's weight and sleep patterns.
Bedscales launched October 26, 2013 on Kickstarter, gathering over $8,000 from supporters in the critical first 100 hours.
Installation is fast and easy: the included sensor modules are placed under each leg of the bed, transmitting high-precision data to the Bedscales cloud platform through the user's home WiFi network. Algorithms developed through years of research extract precise measures of when and how well the user slept. The user's body weight is also measured throughout the night, eliminating the statistical fluctuation and sampling bias seen from occasional use of bathroom scales. Bedscales has validated against polysomnographic studies in a university sleep laboratory -- the gold standard in sleep measurement.
With web and mobile apps, Bedscales users immediately discover how their sleep and weight interact with exercise, lifestyle choices, and the environmental characteristics of their bedroom. These insights grow more valuable over time as subtle correlations and long-term trends emerge. Bedscales plugs squarely into an emerging and vibrant ecosystem of personal activity sensors, workout tracking apps, and environmental monitoring systems often referred to as "quantified self devices".
Bedscales is the hardware product debut from Genetrainer, a company creating an ecosystem of products to improve fitness training and quality of life through genetic customization and quantified living. Bedscales operates as a standalone product for users who wish to focus on sleep, weight and the impact of their environment and activity on these metrics. In addition, Bedscales functions as an indispensable companion to Genetrainer, allowing optimization of sleep as a part of a fitness training program.
Announced at DEMO Fall on October 17 and available on KickStarter from October 26, early supporters can secure the very first Bedscales kits at an early bird price of $199. Thereafter, supporters can reserve Bedscales at a pre-sale price of $249. Bedscales expects to be measuring sleep under beds worldwide by mid-2014.
Links:

Contact:
Julian Gough, Scientific Advisor and Co-Founder of Bedscales
+44 117 3315221
julian(at)genetrainer(dot)com
About Bedscales Inc.:
Bedscales was founded in Oct 2013 and launched on Oct 17th at the DEMO Fall conference, with our Kickstarter campaign starting on Oct 26th. The Bedscales team has been working together for years and has a strong focus on the science, making use of cutting edge research but based on solid evidence. For more information, see http://www.bedscales.co/.