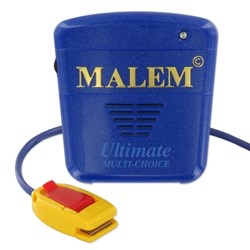 The kids knew to respond to their parent's voice.
Fulton, MD (PRWEB) December 10, 2013
Most bedwetting children are sound sleepers and may have trouble waking up even when an alarm's going off near their ear. That's why BedwettingStore.com—the largest distributor of pediatric enuresis products in America—has just come out with the world's most customizable bedwetting alarm: the Multi-Choice Alarm ($139.95) from Malem Medical.
The Multi-Choice Alarm sounds, vibrates and lights up when triggered. It features a volume control so the user can choose exactly how loud or quiet they want it to be. But the alarm's most unique feature is its variety of sound options. The alarm comes with 8 sounds designed to wake children which users can choose to play individually or at random. It also comes with 20 different melodies for children who respond better to music. If the child responds best to their parent's voice, the alarm allows parents to record up to 3 different messages which can be played individually, randomly, or in sequence.
Renee Mercer, a pediatric nurse practitioner and founder of BedwettingStore.com, said the Multi-Choice Alarm was inspired by a study on residential smoke alarms. "The researchers found that most children didn't wake up to smoke alarms during slow wave sleep, a potentially deadly problem. So they tested alarms which had a pre-recorded message from the child's parent. 96% of the kids woke up—a huge improvement. The kids knew to respond to their parent's voice."
The Malem Multi-Choice Alarm features 33 different combinations of voice, melodies, recorded messages and vibration, making it the most customizable bedwetting alarm on the market. Like all Malem alarms it works by helping the child form a brain-bladder connection, essentially teaching the child's brain that it needs to respond to the feeling of a full bladder. This process is proven to stop bedwetting in 2 to 3 months.
"We're confident that a parent's voice will be an even better stimulus for waking deep sleepers," said Mercer. "And we're currently participating in a clinical study to prove so. It may take a while to get the official results, but the feedback we've received from parents has been great."
About BedwettingStore.com
The Bedwetting Store is America's one-stop shop for bedwetting items and waterproof bedding. They have helped tens of thousands of children—and adults—since their start in 2000. They are now the largest distributor of enuresis related products in the United States. The Bedwetting Store is proud to serve the millions of families who seek information and practical solutions to help children stop wetting. They feature a wide assortment of quality products at discounted prices. You'll find their information at your child's pediatrician's office, in many popular parents magazines and on the Web, of course. Just ask your child's health care provider about the Bedwetting Store. If they specialize in treating childhood wetting, they'll likely recommend one of their products.