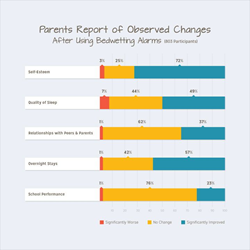 We look forward to helping many more families in the future
Fulton, MD (PRWEB) February 25, 2014
Bedwetting alarms, a device designed to help older children overcome bedwetting, have been growing in popularity worldwide thanks to their effectiveness and new useful designs such as wireless bedwetting alarms. Now, a study by BedwettingStore.com—the largest seller of bedwetting products in the United States—has shown that in addition to helping kids overcome bedwetting, these alarms also provide several positive behavioral changes.
The study surveyed more than 800 families who reported observed changes in their child's behavior after alarm use. The biggest difference was self esteem. 72% of parents reported that their child had better self esteem after completing the bedwetting alarm treatment. This is no surprise, as many children find bedwetting to be an embarrassing problem.
49% of parents also reported an improvement in their child's overall quality of sleep. 37% said using the alarm improved their relationship with their child, as well as their child's relationships with his or her friends. 23% said their child performed better in school after using the alarm. And 57% of parents said their child was able to enjoy more social activities such as sleepovers and overnight stays with their peers.
"It was encouraging to learn just how beneficial our alarms were to the overall wellbeing of the families," said Renee Mercer, a pediatric nurse practitioner and the CEO of BedwettingStore.com. "We look forward to helping many more families in the future."
Parents interested in learning more about bedwetting alarms and how they work can visit the Bedwetting Store's Tips & Advice Center or call for a free bedwetting consultation.
About BedwettingStore.com
The Bedwetting Store is America's one-stop shop for bedwetting items and waterproof bedding. They have helped tens of thousands of children—and adults—since their start in 2000. They are now the largest distributor of enuresis related products in the United States. The Bedwetting Store is proud to serve the millions of families who seek information and practical solutions to help children stop wetting. They feature a wide assortment of quality products at discounted prices. You'll find their information at your child's pediatrician's office, in many popular parents magazines and on the Web, of course. Just ask your child's health care provider about the Bedwetting Store. If they specialize in treating childhood wetting, they'll likely recommend one of their products.