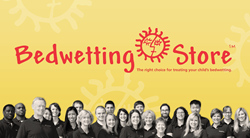 My child was completely dry within two months after 15 years of wetting. Thanks Nurse Mercer!
(PRWEB) January 13, 2015
7 Steps to Nighttime Dryness, the popular guide to ending bedwetting, has just come out in audiobook form. To promote the release, author and Bedwetting Store CEO Renee Mercer is giving out ten free copies of the audiobook.
To win, simply leave a comment on Renee's blog at http://bedwettingstore.com/blog/ via the "Ask a Question" link at the top of the page, or the "Leave a Reply" section at the bottom of the blog posts by January 31st saying why you want the audiobook. The ten best answers will be selected and the posters sent a coupon code so they can download the book for free from Audible.com.
The print version of 7 Steps to Nighttime Dryness debuted in 2004 and is now in its second edition. It's helped tens of thousands of families achieve permanent nighttime dryness. The book covers everything from common myths about bedwetting to the various treatment options available, how to know when it's time to start treating, how to get your child on board, and when to stop treatment and pronounce your child "cured."
The book has received many rave reviews. Sweet Caramel from Dunwoody, GA wrote, "Before spending $2500.00 on an agency to help you, read what Nurse Mercer has to say… The book provides immediate help while the agency requires you to mail in your data and wait for them to send you the next step to try. My child was completely dry within two months after 15 years of wetting. Thanks Nurse Mercer!" Cabmd from Indianapolis, IN wrote, "Very practical and easy to read. It's easy to implement the suggestions." And CP from Boston, MA simply wrote "I am just so happy with this and so amazed that it really does work!!!"
7 Steps to Nighttime Dryness was written by Renee Mercer, a Certified Pediatric Nurse Practitioner with over 25 years of experience dealing with bedwetting and daytime wetting at her private practice in Maryland. The audiobook is narrated by Anne Marie and Susan Silvey and normally sells for $14.95.
About BedwettingStore.com
The Bedwetting Store is America's one-stop shop for bedwetting items and waterproof bedding. They have helped tens of thousands of children—and adults—since their start in 2000. They are now one of the largest distributor of enuresis related products in the United States. The Bedwetting Store is proud to serve the millions of families who seek information and practical solutions to help children stop wetting. They feature a wide assortment of quality products at discounted prices. You'll find their information at your child's pediatrician's office, in many popular parents magazines and on the Web, of course. Just ask your child's health care provider about the Bedwetting Store. If they specialize in treating childhood wetting, they'll likely recommend one of their products.