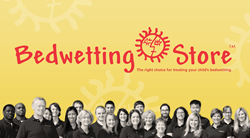 Families want to know how our products have worked for other families.
Fulton, MD (PRWEB) May 06, 2014
Customers have become more and more weary of traditional marketing messages, instead turning to online reviews for trustworthy information on how a product will actually function. This makes online reviews extremely important to businesses, especially ecommerce sites where visitors are unable to hold and test out the product in person. Problem is, most people who make a purchase don't bother to leave a review.
That's why the BedwettingStore.com is running a new Review Sweepstakes during the month of May. Anyone who writes a review about any product on the Bedwetting Store or one of its sister sites will be entered into the sweepstakes for a chance to win a $100 American Express Gift Card. Each customer can enter up to 5 times by leaving multiple reviews. It doesn't matter if the review is positive or negative; both types are useful to visitors deciding which bedwetting alarm or other home medical product to purchase. Entrants don't need to have purchased the product from BedwettingStore.com, but they do need to know the product well enough to leave an honest, accurate review.
"Families want to know how our products have worked for other families," said Renee Mercer, pediatric nurse practitioner and owner of BedwettingStore.com. "So we want to make sure that information is available. Some of our products have over a thousand reviews, but others don't have any. With the Review Sweepstakes, we hope to increase the number of reviews across all our products."
BedwettingStore.com is the largest seller of enuresis products in America. Its parent company Just Health Shops owns several other popular niche medical sites as well including JustNebulizers.com, JustWalkers.com, JustHomeMedical.com, ProtectiveBedding.com and NationalIncontinence.com. The Reviews Sweepstakes runs across all six sites, so anyone who reviews a product on any of the six sites will be entered into the sweepstakes for a chance to win.
About BedwettingStore.com
The Bedwetting Store is America's one-stop shop for bedwetting items and waterproof bedding. They have helped tens of thousands of children—and adults—since their start in 2000. They are now the largest distributor of enuresis related products in the United States. The Bedwetting Store is proud to serve the millions of families who seek information and practical solutions to help children stop wetting. They feature a wide assortment of quality products at discounted prices. You'll find their information at your child's pediatrician's office, in many popular parents magazines and on the Web, of course. Just ask your child's health care provider about the Bedwetting Store. If they specialize in treating childhood wetting, they'll likely recommend one of their products.