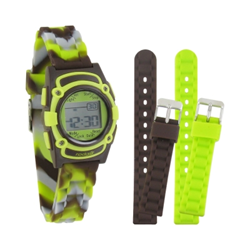 Personally I think their new Vibration Reminder Watch is the most stylish and cool kid's vibrating watch on the market.
Fulton, MD (PRWEB) May 13, 2014
Following the success of their Rodger Vibrating Watch, pediatric medical device manufacturer Rodger has just released a new model of vibrating watch—the Rodger 8-Alarm Vibration Reminder Watch. The new watch is both smaller than the previous model and available in more colors. Best of all, they come with two extra interchangeable bands for kids who are rough with their watch bands and wear them out or kids who just want to mix it up and try different colors.
Like the previous Rodger watch, the 8-Alarm Vibration Reminder Watch allows parents to set up to 8 daily vibration reminders. The settings can then be locked so children don't accidently change them when playing with the watch.
Originally, the Bedwetting Store started carrying vibrating watches as a way to help families deal with daytime wetting accidents. This common issue is generally the result of children being so caught up in what they're doing that they don't realize they need to use the bathroom until it's too late. By discreetly reminding children to empty their bladders at regular intervals, vibrating watches greatly reduce the chance of a wetting accident. But this certainly isn't the only use for vibrating watches. Many parents get them as medication reminders for their children, or use them to remind children to do their homework and/or chores.
"We're excited to see how families respond to the new Rodger watch," said Renee Mercer, certified pediatric nurse practitioner and owner of the Bedwetting Store. "Whether it's bedwetting alarms or vibrating watches, Rodger always makes high quality durable products, and personally I think their new Vibration Reminder Watch is the most stylish and cool kid's vibrating watch on the market."
The Rodger 8-Alarm Vibration Reminder Watch is available in Blue, Pink, Green and Red and can be purchased online for $49.95. Parents can set the 8 daily reminders to both sound and vibrate, vibrate only, or sound only.
About BedwettingStore.com
The Bedwetting Store is America's one-stop shop for bedwetting items and waterproof bedding. They have helped tens of thousands of children—and adults—since their start in 2000. They are now the largest distributor of enuresis related products in the United States. The Bedwetting Store is proud to serve the millions of families who seek information and practical solutions to help children stop wetting. They feature a wide assortment of quality products at discounted prices. You'll find their information at your child's pediatrician's office and on the Web, of course. Just ask your child's health care provider about the Bedwetting Store. If they specialize in treating childhood wetting, they'll likely recommend one of their products.