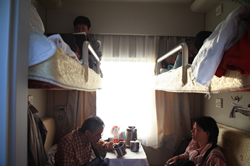 Tibet (PRWEB) April 09, 2014
Specializing in Tibet tour services, Tibet Travel Org CITS launched a Beijing to Lhasa train travel program to meet the rapidly rising market demand. As the world's highest railway, Qinghai-Tibet Railway ranks in top ten greatest railways in the world. Since its operation in July 2006, the line has carried over 50 million travelers, especially those from Beijing to Lhasa.
"Many overseas tourists and travel agencies consult us about train tickets to Tibet a year in advance," said Ms. Debbie Deng, the OP manager of the travel agency. "Our new program is expected to attract thousands of tourists this year."
"Because Beijing connects with international flights very well, many travelers to Tibet arrive in Beijing first before going to Lhasa by air or rail," Debbie said. "Over 70% prefer taking a train via Qinghai-Tibet Railway. It is the most scenic railway in China, and the train is the most advanced. You will feel very comfortable and joyful on board."
"It is usually very hard to get a ticket for such a hot tourist route in peak season. But we can guarantee the tickets because we have an annual booking from the ticket office," she continued. "In addition, a tourist train will be open from Shijiazhuang to Lhasa in May this year. It takes only one hour from Beijing to Shijiazhuang. The new train will actually double the rail capability from Beijing to Lhasa and partially resolve the shortage of tickets."
"Foreigners must show their Tibet Travel Permit when boarding a train to Tibet. We will help you to apply for the permit, too. We will deliver the permit to your hotel in Beijing or give it to you at the train station." She said.
Currently, there is a train from Beijing to Lhasa every day. It starts from Beijing West Railway Station at 20:00 and arrives in Lhasa at 15:40 on the third day. There are three classes of tickets—soft sleeper (four bunks to a cabin, RMB 1,186 for a bottom bunk and RMB 1,144 for an upper one), hard sleeper (six bunks to a cabin, RMB 763 for a bottom bunk, RMB 742 for a middle one and RMB 720 for an upper) and hard seat (RMB 360). In China, the train ticket fare does not include meals, but each train has a dining car where Tibetan and Chinese food is offered. It costs around RMB 20 for each meal.
Like other trains to Tibet, it is also specially equipped for highland traveling. It has an oxygen-supply system to maintain the air pressure at a suitable level. Individual oxygen masks are also available. All cars are equipped with double-layer glass, covered with anti-ultraviolet radiation film.
The most scenic part of the journey is from Golmud to Lhasa. Over 80% of the railway between Golmud and Lhasa is at an elevation of over 4,000 meters above sea level, with the highest point being 5,072 meters at Tanggula Pass. Travelers can see a fabulous world, which is entirely different from the cities, along with seasonal and regional changes, and different ecosystems. The railway itself is also a great attraction. It holds nine world records, such as the world's highest railway, highest train station (Tanggula Station, at 5,068 meters above sea level) and highest railway tunnel (Fenghuoshan tunnel, at 4,905 meters).
About Tibet Travel Org CITS
Tibet Travel Org CITS (http://www.tibettravel.org), the top online Tibet tour operator, annually sends more than 1,000 individual travelers and over 100 tour groups to Tibet. It helps travelers to obtain the Tibet Travel Permit, book air/train tickets to Tibet and customize their tours. The company also keeps updating latest information about Tibet on Facebook (tibettravel.org) and twitter (@TibettravelOrg).