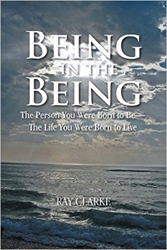 "Being in the Being" offers a smart, realistic and thoroughly-insightful guide towards total self-fulfillment.
BRIBIE ISLAND, Australia (PRWEB) February 11, 2016
"What holds you back from achieving your full potential?" motivational speaker, trainer and author Ray Clarke poses a question as a challenge for his readers to examine the full scale of their personal fulfillment. In his book, "Being in the Being" (published by Partridge Singapore), Clarke explores the subject with more depth, revealing time-honored and tested ways on how to break free and become "the person you want to be."
Through his years of interaction with people from all levels of the labor force, Clarke has discovered a path to controlling one's own deeper thinking and become the master of one's fate. He has broken down his discoveries into three easy-to-follow parts in order to ensure the smoothest transition from wonder to realization.
Part one promotes self-realization, providing detailed descriptions of the characteristics of the two opposing intelligence systems functioning within the individual. Part two consists of guided self-assessment and how one's general response to common situations predisposes him/her to failure or success. Once a firm understanding of the self is established, the individual can finally explore oneself further and learn what issues she or he must overcome in each intelligence system - allowing him or her to participate in practical, self-led sessions to determine who they mean to be and how to obtain the lives they were meant to live.
"Through a more sophisticated understanding of your thought patterns and deep analysis of your skills, talents and life choices," says Clarke, "you can achieve any goal you set for yourself."
Teeming with practical real-life examples that help the readers maneuver successfully from one transition to the next, "Being in the Being" offers a smart, realistic and thoroughly-insightful guide towards total self-fulfillment.
"Being in the Being"
By Ray Clarke
Hardcover | 6x9in | 164 pages | ISBN 9781482894172
Softcover | 6x9in | 164 pages | ISBN 9781482894165
E-Book | 164 pages | ISBN 9781482894189
Available at Amazon and Barnes & Noble
About the Author
Born in the country town of Portland, author Ray Clarke moved to the city of Wollongong at the age of 18 and after completing an apprenticeship as a motor mechanic. At 21, he took a position in the Port Kembla steelworks as a maintenance fitter. Over the next 33 years, he obtained a diploma in mechanical engineering and improved his position in that company to middle management, attaining the title of plant maintenance engineer before taking early retirement in 2001. His main interests since then has included writing and besides his book being published, he has also had poems published, in addition to having written over 450 quotes based on the context of his book in the social media platform Twitter, now with 21,000 followers. Clarke also delves into music, having had some minor success with several top 25 finishes and one top finish in the Australian Songwriters Association competitions over the past eight years. His other interests include traveling. He is currently 68 and is happily married with two children and seven grandchildren.
Partridge Singapore is a partnership between the Penguin Group, the world's foremost trade book publisher, and Author Solutions LLC, the industry leader in supported self-publishing, that aims to help writers in Singapore, Malaysia, and the rest of Southeast Asia become published authors. Partridge Singapore gives authors in the region direct access to a comprehensive range of expert publishing services that meet industry standards but are more accessible to the market. For more information or to publish a book, visit http://www.partridgepublishing.com/singapore or call 800 101 2657 (Singapore) or 1 800 81 7340 (Malaysia). For the latest, follow @PartridgeSG on Twitter.