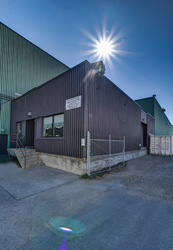 We load the goods on a scale before and after we store them, so what you are charged for is the storage cost dependent on weight only.
(PRWEB) September 19, 2017
A Kelowna moving company is meeting the demands for moving services such as storage as Kelowna real estate trends move more towards the seller's market.
The current demand for homes in Kelowna has sellers resigned to making alternative arrangements to live rather than finding a new house before they sell and this has increased the need for storage, says Nathan Miller, a professional mover and general manager of Bekins Moving and Storage Kelowna.
"Before when a house sold it would usually be five months before the moving date took place. Now what's happening is the cycle is shorter. The moving date is taking place a month or two after the house sells. People are selling their homes so quickly, there is no time to find another home on the market, and because there is not a lot of inventory, or they decide to build a new home, they need to store their belongings for nine-to-12 months," explained Miller.
The dilemma of what to do with their belongings can also cause some home sellers to reconsider selling rather than hiring movers in Kelowna and looking for storage solutions, added Miller.
"People shouldn't let their furniture dictate their decision on whether to sell their home or not. This can compare to hundreds of thousands of dollars to hundreds of dollars in the end," he said.
To meet the demand for storage, Bekins offers both short-term storage (STS) and long-term storage (LTS) solutions.
For LTS, which is also often utilized by snowbirds or when people are traveling for more than two months, the company has increased the size of its climate-controlled warehouse in Kelowna from 8,000 square feet to a 25,000 square-foot facility. The warehouse is used to store items for two months or longer and features more than 500 individual and secure vaults and also a separate area for upholstery, where it is pad wrapped and stored upright in racks to prevent dents.
"We load the goods on a scale before and after we store them, so what you are charged for is the storage cost dependent on weight only," said Miller.
For STS, which is any time under two months and is often used by people who have a possession date on a new home or are undergoing renovations, Bekins utilizes 20-feet high cube containers, pup trailers as well as full-size 54-feet furniture trailers, if the storage is only needed for a day or two.
"We have more than 60 pieces of equipment that we can capitalize on depending on the size and duration of the move, and we try to keep the handling of said items at a minimum. Less handling means less cost to the customer and also lessens the potential for items to be broken or lost," said Miller.
Different from a self-storage facility, all items, whether they are for STS or LTS, are handled by professional movers and packers.
"We offer a one-call professional, inclusive service. We come to your home and then pad wrap everything in plastic before we move it to our storage facility. This way you do not have to take time away from your job or hire day care. You can preserve your friendships and family from having to help you move, " said Miller.
And as no move is the same as another move, customers can also get an estimate on potential long-term and short-term storage as well as Bekins' packing services.
"We do a free-at home survey and give them both options, so if they need longer storage, we can place their items into the LTS warehouse. We can plan that from the get-go, so they are only charged for warehouse handling if it is needed," said Miller.
About Bekins Moving and Storage:
With a history dating back to 1891, Bekins Moving & Storage has developed a trusted reputation across North America. As the largest moving company in Western Canada, Bekins offers six branches all over BC, including Kelowna, that offer moving and storage services. Bekins also offers commercial movers for businesses needing to relocate or renovate as well as solutions for long distance moving, through its affiliate United Van Lines, which has more than 200 locations across North America.
For more information, please contact:
Nathan Miller 
General Manager
Bekins Moving & Storage Kelowna 
nathan[at]bekinskelowna[dot]com
250-766-1966 
http://www.bekinskelownamovers.com