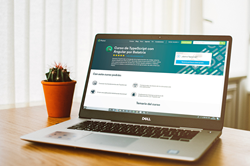 The real value of e-learning relies on the possibility to acquire basically any kind of information you desire instantly
Bogota, Colombia (PRWEB) June 12, 2019
Belatrix Software, a leading software development company, announced an alliance with Platzi to co-create online content for people interested in software development. The first course of the initiative is now live on Platzi and it's expected to be followed by a series of trainings on different software technologies.
Alan Buscaglia, Senior Engineer at Belatrix, was responsible for orchestrating the content and the curriculum for the "Angular with Typescript" course at Platzi's headquarters in Bogota, Colombia. This joint effort takes advantage of Belatrix's technical expertise in software development and testing, along with Platzi's experience as one of the most popular e-learning communities on the web.
One of the core organizational differentiators of Belatrix is the focus we have on providing top-notch technical training to staff - over 100 hours of training per employee per year. Thanks to this "employee centered mindset", we have received the "Great Place to Work" award in 2016, 2017, and 2018, including being recognized as a top workplace for millennials. Meanwhile, Platzi is an e-learning platform with offices in Colombia, Mexico and the US, with over 700,000 active students, that offers high quality professional content.
According to Gisella Tromer, Talent Development Coordinator at Belatrix: "E-learning platforms are very useful in terms of having a repository of information with important documentation, such as best practices guidelines, that can be shared with the rest of the company. In line with this, at Belatrix we use a methodology called "microlearning" that consists of providing specific and concise information that our staff can consume in a short video or tutorial".
E-learning platforms continue to grow rapidly and are particularly popular because they enable instant access to high quality content. Digital employees want to use technology to further their learning and education. Such platforms enable greater personalization and for individuals to take control over their own professional development.
"The real value of e-learning relies on the possibility to acquire basically any kind of information you desire instantly. This democratization of information has led me to receive inquiries from all around the world, which I personally love; I like to assist anyone who is interested in software development as much as I can", stated Buscaglia.
The culture of continuous learning at Belatrix contributes to our high-performing workplace. The Belatrix-Platzi alliance will further strengthen this, while providing software development enthusiasts from around the world access to world-class technical training and education.
About Belatrix Software
Belatrix Software helps companies thrive in the digital world. Organizations partner with Belatrix to turn ideas into high quality, innovative software based on highly-tuned Agile development processes. Customers use Belatrix's digital transformation services to create best-in-class software products, lower time to market, and gain competitive edge. Belatrix's dedicated labs, focusing on UX, continuous delivery, mobile, DevOps, and QA automation, help organizations become digital leaders.
Belatrix's clients include both established Fortune level and emerging, venture backed firms. Some of the firm's clients include Disney, Adobe, AOL, PwC, and Shutterfly. Belatrix is a South American company with offices in Florida, New York, San Francisco, Barcelona, Mendoza, Buenos Aires, Bogotá and Lima