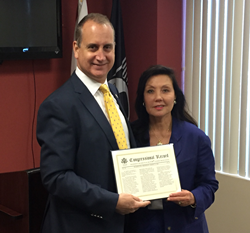 Mr. Speaker, in recognition of Women's History month I rise today to honor Ms. Belinda Keiser, a remarkable individual in the State of Florida.
Fort Lauderdale, Florida (PRWEB) April 05, 2016
Keiser University's Vice Chancellor of Community Relations and Student Advancement, Belinda Keiser, was formally recognized for her decades of service by U.S. Congressman Mario Diaz-Balart of Florida's 25th Congressional District, before the Honorable Paul Ryan, Speaker of the U.S. House of Representatives.
"Mr. Speaker, in recognition of Women's History month I rise today to honor Mrs. Belinda Keiser, a remarkable individual in the State of Florida," said Congressman Diaz-Balart. "Mrs. Keiser has dedicated her life to working for others, specifically in the areas of education, public service, and philanthropy," he added.
For over 30 years, she has been among the leadership of Keiser University, an institution that started with just one student in 1977, and today serves over 20,000 students, 60,000 alumni, and employs 3,800 on 17 Florida campuses and internationally. As Vice Chancellor, she is responsible for media and public relations, student services, employer relations, and charitable giving. Through her role, she has broadened the school's reach, built on its strong reputation, and stayed true to its founders' vision.
The effects of Mrs. Keiser's commitment have also been felt in public service, where she has served as an Ex-Officio member of the Florida Council of 100, as an appointee of Gov. Rick Scott to the Enterprise Florida Board of Directors, and on the Florida Government Efficiency Task Force. Currently, Belinda is serving as a reappointed member of the 17th Circuit Judicial Nominating Commission of Broward County, and is also working as a member of the Board of Florida's Chamber of Commerce.
She still manages to contribute a large portion of her time and resources to numerous charitable organizations including the American Cancer Society, Operation Homefront, and the United States Marine Corps. Mrs. Keiser's ongoing efforts truly impacted Florida's economic and workforce systems, global competitiveness, and the legal, education and healthcare communities.
"I am honored and humbled to be recognized by Congressman Diaz-Balart, one of Florida's most distinguished and enduring leaders, during our nation's Women's History month," said Keiser. "This month serves to raise awareness of women's contributions to our country – past, present, and future – and to the advancement of opportunities for women in all aspects of our society. I've had the privilege of being inspired by many talented and compassionate women and men throughout my lifetime. I hope that I have been able to do the same for the next generation of women leaders in education, health care, public service, and philanthropy," she added.
Recently, Mrs. Keiser announced the launch of a Center for Entrepreneurship and Innovation at Keiser University's Flagship Campus in West Palm Beach. The Center is intended to prepare graduates to start their own businesses and reach greater heights in their chosen professions as many alumni already have.
"Keiser University is honored to award nearly $44 million annually in need-based and academic scholarships," said Keiser. "The Center for Entrepreneurship and Innovation can provide additional opportunities for our students, 70% of which are women, to develop the talents needed to be competitive in an increasingly global marketplace," she added.
"I look forward to working with her on our shared priorities in the future. I am privileged to know Mrs. Keiser and admire her service to the local community in South Florida, and I ask my colleagues to join me in recognizing this remarkable individual," stated Congressman Diaz-Balart.
About Keiser University: Keiser University is a private, not-for-profit University serving nearly 20,000 students offering 100 degrees at the doctoral through associate level on 18 Florida campuses, online and internationally, employing 3,800 staff and faculty.
Keiser University is accredited by the Southern Association of Colleges and Schools Commission on Colleges to award certificates and degrees at the associate, baccalaureate, masters, specialist, and doctoral levels. Contact the Commission on Colleges at 1866 Southern Lane, Decatur, Georgia 30033-4097 or call 404-679-4500 for questions about the accreditation of Keiser University.
For additional information regarding Keiser University, visit http://www.keiseruniversity.edu