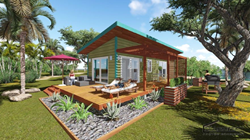 Milwaukee, WI (PRWEB) April 20, 2017
Located on Ambergris Caye in Belize, Sandy Point Real Estate is known for their pristine luxurious beachfront vacation resorts and pre-construction projects. Their team of ten professionals have been assisting customers purchase their dream properties since 1980. They know the island and community like the back of their hand and are always willing to help their buyers make the best choice possible.
"I am extremely excited to see the exposure our properties will receive with Micoley.com, powered by RealtyHive," stated Kris Seals, Broker with Sandy Point Real Estate. "With the amount of vacation properties we have, buyers have a ton of options to be apart of the beautiful Caribbean life."
Some of the properties being featured with Micoley.com, are pre-construction villas located in the Costa Blu Resort. On first come first serve basis, the villas offer 1 bedroom with 1 bathroom, ranging from 1,050-1,200 square feet. Phase 2 of the resort will include an additional pool, pool bar, restaurant, beach volleyball, and tennis court. Costa Blu Resort is located only 6 miles north of San Pedro Town and offers some of the most stunning views with turquoise waters on Ambergris Caye.
In addition to the gorgeous year-round weather, buying real estate in Belize offers many additional benefits including reasonable living costs, economic stability, and a stress-free lifestyle. According to Sandy Point Real Estate, taxes are very low meaning buyers don't have to pay real estate tax or capital gains. A big key factor is that there are short, direct flights from several major cities in the United States available daily. Whether you are looking for a vacation or year-round home, Belize is a great place to invest in.
"Kris and his team have built a tremendous reputation of servicing buyers and sellers. We are very excited to bring them additional exposure across the United States and beyond for their listings," stated Wade T. Micoley, Broker and Owner of Micoley.com, powered by RealtyHive.
For additional information, please visit http://www.micoley.com or call 866-371-3619. All of Micoley.com's event style properties are available for purchase prior to the event.
About Micoley.com, powered by RealtyHive:
Micoley.com, powered by RealtyHive has sold thousands of properties and continues to serve the real estate community in the banking, agency/brokerage, and private sectors. Thanks to the event marketing model, which is highly customized by property and area, Micoley.com has satisfied clients and customers selling and purchasing all types of properties, from $1,500 lots to $25 billion banks. These programs generate maximum exposure on each property, and the stats speak for themselves. Micoley.com's auction-event marketing process has assisted clients all over the United States and internationally.