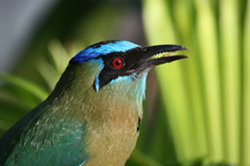 Houston, TX (PRWEB) October 26, 2014
Travelers on the Belize Birding and Nature Tour will discover Belize's fantastic array of species from two of Latin America's best ecolodges, both situated deep in large, protected areas, yet offering comfortable cabins and delicious meals.
Lamanai Outpost Lodge is home to 400 bird species with easy access to ancient Mayan ruins dating to the 4th century. Belize birding and nature tour participants can admire the towering Temple of the Jaguar and spot Slaty-tailed Trogons, Rufous-tailed Jacamars, White-whiskered Puffbirds, and perhaps even a Collared Forest-Falcon from the temple's steps. Many regional endemics are found here.
The lodge overlooks the New River Lagoon and travelers will enjoy several boat trips. Voyages through the lagoon may reveal endangered Morelet's Crocodiles, iguanas, and basilisk lizards. Boat-billed Herons, Gray-necked Wood-Rails, and five species of kingfishers inhabit the lagoon.
At Lamanai, travelers can enjoy spotting Yucatan Black Howler Monkeys, Central American Spider Monkeys, Agoutis, and Gray Foxes. Five feline species have been recorded at Lamanai, including Jaguars and Ocelots.
The Belize Birding and Nature Tour also includes 4 nights at the Chan Chich Rainforest Lodge, an idyllic ecolodge set amidst the ruins of a classic Mayan cultural center. Perhaps the New World's best-known venue for nature travelers, Chan Chich is surrounded by one of the largest tracts of subtropical moist forest left in Central America.
Travelers will explore this 130,000 acre reserve, searching for toucans, puffbirds, motmots, jacamars, ovenbirds, woodcreepers, antbirds, and manakins. The forest is home to over 350 species including abundant Ocellated Turkeys, rare Ornate Hawk-Eagles, and elusive Tody Motmots.
Chan Chich's forests offers travelers one of the few true chances to see secretive Jaguars, Jaguarundis, or Ocelots, most often spotted on night drives. More frequently seen mammals at Chan Chich include Northern Tamanduas, Four-eyed Opossums, and Gray Foxes.
At night, travelers may listen and look for Northern Potoos, Yucatan Nightjars, and Common Pauraques.
Naturalist Journeys continues its efforts to promote conservation through ecotourism on this year's two Belize Birding and Nature Tours. Naturalist Journeys owner and CEO, Peg Abbott, says, "We chose to work with two premiere ecolodges in Central America not only for their amenities, but for their contributions to local communities and conservation. Each traveler we bring to Belize helps to ensure the future of this small nation's globally important rainforest and wildlife."
More on Naturalist Journeys' Belize Birding and Nature Tours:
The tours begin and end in Belize City. They are limited to 12 persons. Pat Lueders is the guide for the Jan. 24 - Feb. 1, 2015 tour, and Bob Behrstock is the guide for the Feb. 26 – March 6, 2015 tour. Full itineraries can be found at http://www.naturalistjourneys.com/jcalendar/jc_belize15.htm and http://www.naturalistjourneys.com/jcalendar/jc_belize15-2.htm.
About Naturalist Journeys
Naturalist Journeys is a nature-travel company based in Portal, Arizona. They strive to support eco-tourism throughout the U.S. and beyond, through small-group guided journeys, often in co-operation with local non-profit groups and communities. Visit their website at http://www.naturalistjourneys.com or request a free brochure by email on the company website, or by calling toll-free: 866 900-1146.