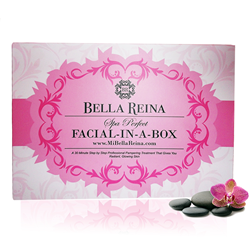 the celebrity skin treatment is a shorter version
Delray Beach, FL (PRWEB) November 30, 2014
Donald Trump's Mar-a-Lago was the setting for the glamorous unveiling of the Bella Reina Facial in a Box. The "beautiful pink box" premiered as the "take home" gift to 700 attendees at the Bethesda Hospital's Women of Grace luncheon. Now the famous Facial in a Box is available for holiday gifting of radiant and glowing skin.
The Bella Reina Facial in a Box showcases a professional spa facial that can be done at home in four easy steps. Each of the four steps is demonstrated with illustrations that include cleansing, exfoliation, masking and hydration. The star of the "pink box", as it became lovingly called, is the Nancy Reagan 24K Gold Collagen Facial Mask. This skin treatment takes about 30 minutes, and is designed for those with normal to dry skin.
"The celebrity skin treatment is a shorter version of an actual facial treatment at Bella Reina Spa", said Kinsey Harris, VP of Marketing & Sales. "The initial response has been nothing short of amazing because the products really do work" added Ms. Harris.
The Bella Reina Facial in a Box contains the Nancy Reagan Organic Beta Facial Cleanser, Crystal Micro-Polish Scrub, 24K Gold Collagen Mask, and the Face and Neck Infusion Creme all beautifully wrapped in the now infamous pink box for $34.99. The gift of great skin is only a click away. For more information or questions, email info(at)mibellareina(dot)com or check out Mi Bella Reina on Facebook, Twitter, Pinterest or Google+.
About Mi Bella Reina: Bella Reina is the leading spa provider and definitive authority on luxury beauty, wellness, and spa treatments. Bella Reina was created by Nancy Reagan, a nationally recognized expert in beauty, nutrition, weight loss, skin care, and makeup. Nancy and Bella Reina Spa have been featured in the New York Times, WebMD, Les Nouvelles Esthetique & Spa, and Beauty High.