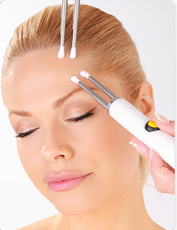 Each week concentrates on regenerating the skin from the harshness of summer
Delray Beach, FL (PRWEB) September 29, 2013
With the fall fashion trends leaping out on magazine covers and blogs, the acclaimed Delray Beach Spa, Bella Reina Spa revives your skin with the Bella Facelift Blast. The spa recognizes that clients are getting their wardrobes fall-ready, but not their skin. In what can only be called the Fall Fashion Must-Have for the Skin, Bella Reina Spa has designed a five (5) week treatment that gets your skin in-vogue with your fall wardrobe.
The Fall Fashion Skin Program combines the Non-Surgical Microcurrent Facelift with the Dr. Grandel Ampoule Treatment to regenerate, plump, firm, revitalize & nurture the skin. The program concentrates on moisture, oxygen for the tissues, micro-lifting the cells, stem cells and pore refinement. Each week concentrates on regenerating the skin from the harshness of summer, so that by week five, the skin is fall-fashion ready.
In addition, the CACI ultra microcurrent is providing the "heavy" lifting of the facial muscles with four (4) different technologies within one state of the art treatment device: Microcurrent, Ultrasonic Peel, Hydratone and LED Light Therapy photo stimulation. The "go-to" Delray Beach Spa, Bella Reina Spa, is taking fall fashion anti-aging skin treatments to a new level. Concentrated nutrients, stem cells, and peptides combined with microcurrent ultrasound technology and facial muscle lifting provide the perfect "fall fashion must-have for your skin." For more information, call Bella Reina Spa at 561-404-7670.
Company Information:
Bella Reina Spa is the leading provider and definitive authority on beauty, wellness and spa treatments in the South Florida area. The spa is dedicated to providing outstanding services and anti-aging treatments, like the non-surgical facelift or the slimming infrared body wrap, to guests with busy lifestyles. Bella Reina Spa was created by Nancy Reagan, a nationally recognized expert in beauty, nutrition, weight loss, skin care and makeup. Nancy and Bella Reina Spa have been featured in the New York Times, WebMD, Les Nouvelles Esthetique & Spa, and PC Advisor for spa industry expertise and business success. To learn more about how Bella Reina Spa is constantly innovating spa services, programs and packages please visit BellaReinaSpa.com.