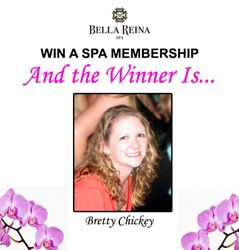 Delray Beach Spa offers Spa Membership Sweepstakes
Delray Beach, FL (PRWEB) November 24, 2014
Bella Reina Spa, Delray Beach, FL, announces today, the October spa sweepstakes winner Brett Chickey. Winners of the popular sweepstakes contest can win a 3-month Bella Club Membership and their choice of a spa facial, spa massage or spa manicure & pedicure.
Ms Chickey when asked about her time at the spa said, "The facial was so relaxing. The mini massage with the facial was unexpected and absolutely wonderful! I am beyond relaxed right now and my face feels amazing." The facial, a South Florida spa staple, is a revolutionary skin treatment designed to treat any skin condition.
The spa membership was introduced in May to delight and reward spa guests. The spa member can choose one spa service or all three depending on their membership level. When asked why she wanted to win, Ms Chickey replied, "I like day spas because they offer relaxing amenities to help reduce stress. Winning a spa membership will help me stay relaxed."
Kinsey Harris, VP of Marketing and Sales for Bella Reina noted, "this spa membership sweepstakes has really been able to touch lives for the better. It's why we do what we do." For more information on the sweepstakes or a spa membership, contact the spa at 561-404-7670 or email info(at)bellareinaspa(dot)com.
About Bella Reina: Bella Reina is the leading spa provider and definitive authority on luxury beauty, wellness, and spa treatments. Bella Reina was created by Nancy Reagan, a nationally recognized expert in beauty, nutrition, weight loss, skin care, and makeup. Nancy and Bella Reina Spa have been featured in the New York Times, WebMD, Les Nouvelles Esthetique & Spa, and PC Advisor for spa industry expertise and business success. To learn more about how Bella Reina is constantly innovating both spa services, spa memberships and shopping for beauty, please visit BellaReinaSpa.com or MiBellaReina.com.