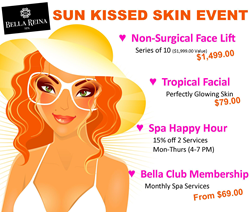 Corporate clients are looking for a way to invest in the well-being of their employees
Delray Beach, FL (PRWEB) June 11, 2014
Bella Reina Spa, Delray Beach's celebrity spa hangout is pleased to announce the introduction of the Bella Club Membership. This affordable membership program further adds to the list of results-driven services at Bella Reina Spa.
Clients are not the only ones enthralled with this new program, which starts at $69 a month. The spa has corporate partners using the program as incentives and for employee benefits. The Bella Club Membership is different than other spa massage-only memberships; the member has a choice of a Spa Facial, Spa Massage or Spa Manicure & Pedicure on a monthly basis. The member can choose one or all three depending on their membership level.
The corporate interest in the Bella Club Membership program is no surprise as companies look to improve employee morale and retention. "Our corporate clients are looking for a way to invest in the well-being of their employees and a spa membership is perfect. The fact that the employee can choose their service is key to the success of the program", said Kinsey Harris, V.P of Marketing and Sales.
Whether you are looking to spa on a monthly basis or for corporate incentives, contact the spa at 561-404-7670 or for more information and pricing email kinseyh(at)bellareinaspa(dot)com.
About Bella Reina: Bella Reina is the leading spa provider and definitive authority on luxury beauty, wellness, and spa treatments. Bella Reina was created by Nancy Reagan, a nationally recognized expert in beauty, nutrition, weight loss, skin care, and makeup. Nancy and Bella Reina Spa have been featured in the New York Times, WebMD, Les Nouvelles Esthetique & Spa, and PC Advisor for spa industry expertise and business success. To learn more about how Bella Reina is constantly innovating both spa services, spa memberships and shopping for beauty, please visit BellaReinaSpa.com or MiBellaReina.com.