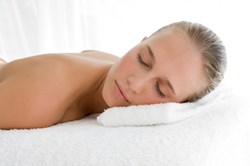 The new Bella Body Massage relieves all of my stress.
Delray Beach, FL (PRWEB) September 23, 2013
When Bella Reina Spa's lead massage therapists designed the Bella Body Massage, little did they know that the massage would become dubbed the stress relief massage. The new massage incorporates relaxing aromatherapy, heat compresses, sugar scrub exfoliation, luxurious rose and sandalwood oil, plus a trigger point foot massage for a total stress-busting combination.
As clients from this "go-to" spa in Delray Beach began to experience the massage, it became very clear that the Bella Body Massage is a stress-reliever massage. "Maybe it's the combination of the heat, the aromatherapy and the massage, but the new Bella Body Massage relieves all of my stress," says Judy Glynn, a long-time spa client.
The International Spa Association 2013 Spa Consumer Snapshot reported that 72% of clients say that stress influences their decision to go to a spa and more than 50% of consumers correlate stress relief with a spa experience. The Bella Body Massage because of its ability to completely relax and de-stress clients has turned the normal massage experience into a stress-relieving spa escape.
In addition, the newly dubbed stress-buster massage ties directly into the spa's philosophy of prevention as many diseases and health issues are directly related to stress. For more information on the Bella Body Massage or to reserve your stress-relief massage, call the spa at 561-404-7670.
Company Information:
Bella Reina Spa is the leading provider and definitive authority on beauty, wellness and spa treatments in the South Florida area. The spa is dedicated to providing outstanding services and anti-aging treatments, like the non-surgical facelift or the slimming infrared body wrap, to guests with busy lifestyles. Bella Reina Spa was created by Nancy Reagan, a nationally recognized expert in beauty, nutrition, weight loss, skin care and makeup. Nancy and Bella Reina Spa have been featured in the New York Times, WebMD, Les Nouvelles Esthetique & Spa, and PC Advisor for spa industry expertise and business success. To learn more about how Bella Reina Spa is constantly innovating spa services, programs and packages please visit BellaReinaSpa.com.