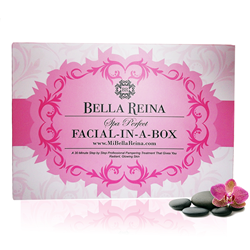 it just happened and the Facial-In-A-Box was born
Delray Beach, FL (PRWEB) October 13, 2014
Bella Reina Spa and Mi Bella Reina announce platinum sponsorship of the Women of Grace with the world premiere of the new Facial-in-a-Box. The 15th Anniversary for the Women of Grace luncheon, which benefits the Bethesda Hospital Foundation is to be held at Mar-A-Lago, in Palm Beach on November 12th. The annual luncheon honors five local women whose outstanding service inspires and enriches the community and is expected to sell-out with 700 attendees.
The idea for the Facial in a Box came when Nilsa McKinney, Chairperson of this year's event wanted an over the top gift for all of the 700 attendees. "Sitting with Nilsa at her house, we were brainstorming ideas for great event gifts", said Nancy Reagan, founder and first lady of skin care. "We started with our 24K Gold Collagen Mask and how most women don't take the time to really have facials at a spa. Then it just happened and the Facial-in-a-Box was born."
The gorgeous Bella Reina Facial-in-a-Box has all of the goodies for instant radiant skin at home. Inside the box are the super hydrating stars for youthful skin, which include an organic cleanser, a skin polisher scrub, the 24K Gold Collagen Mask, and the fairy dust of aging, the Face and Neck Infusion Creme. The glamorous pink Bella Reina box will be presented to each of the attendees at this year's luncheon.
Bella Reina Spa, in Delray Beach, FL, has long been a supporter of the Bethesda Hospital Foundation with numerous years of donations and gifts. For more information on Bella Reina Spa or Mi Bella Reina, the online Health and Beauty Shop, please email MiBellaReina.com at info(at)mibellareina(dot)com.
About Bella Reina: Bella Reina is the leading spa provider and definitive authority on luxury beauty, wellness, and spa treatments. Bella Reina was created by Nancy Reagan, a nationally recognized expert in beauty, nutrition, weight loss, skin care, and makeup. Nancy and Bella Reina Spa have been featured in the New York Times, WebMD, Les Nouvelles Esthetique & Spa, and PC Advisor for spa industry expertise and business success. To learn more about how Bella Reina is constantly innovating both spa services, spa memberships and online shopping, please visit BellaReinaSpa.com or MiBellaReina.com.