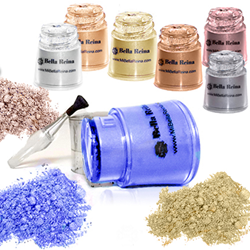 our typical client is not a makeup artist
Delray Beach, FL (PRWEB) October 30, 2014
With a twinkle, shimmer and splash of a brush, Bella Reina Cosmetics has created a shopping dilemma at MiBellaReina.com. The dilemma comes as fans of the new cosmetic line decide which of the shimmery shadows to choose.
The introduction of the mineral eyeshadows comes as Bella Reina begins the rollout of their natural cosmetic line. Available in 8 shimmery shades, the mineral eyeshadows are a hit for many reasons. First and foremost, the payoff of pigment allows for easy one brush application. Also, the brush comes in the container which makes the shadows perfect for travel and makeup novices.
The shades of the new mineral eyeshadows showcase a range of lights to darks. The selection affords easy eye makeup looks for even a beginner. "We wanted the average woman to be able to apply a smoky eye look in seconds," said Nancy Reagan, the founder of Bella Reina. "For example, apply Tea Rose all of the over the eye, then use the Mulberry Shade in the crease to have a fabulous look in seconds."
Knowing that the target market for Bella Reina is a very busy woman who needs great products was the inspiration for the compact mineral eyeshadows. Most of the products in the line have a 2 in 1 product use.
"Choosing to introduce the mineral eyeshadows now was the perfect next step", said Kinsey Harris, VP of Marketing and Sales. "Our typical client is not a makeup artist and needs easy portable makeup. The Bella Reina woman also loves quality."
Bella Reina Cosmetics will continue the rollout of beauty products over the next three months, with the focus on vegan and treatment makeup. The continuing effort to provide quality products that exceed expectations is the foundation of the Bella Reina philosophy.
For more information on the shimmery mineral eyeshadows, check out Mi Bella Reina's website or contact at info(at)mibellareina(dot)com.
About Bella Reina: Bella Reina is the leading spa provider and definitive authority on luxury beauty, wellness, and spa treatments. Bella Reina was created by Nancy Reagan, a nationally recognized expert in beauty, nutrition, weight loss, skin care, and makeup. Nancy and Bella Reina Spa have been featured in the New York Times, WebMD, Les Nouvelles Esthetique & Spa, and PC Advisor for spa industry expertise and business success. To learn more about how Bella Reina is constantly innovating both spa services, spa memberships and online shopping, please visit BellaReinaSpa.com or MiBellaReina.com.