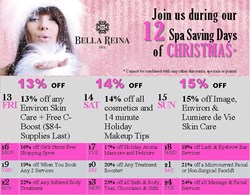 If we can give them stress-free shopping.
Delray Beach, FL (PRWEB) December 19, 2013
Bella Reina Spa is celebrating the holiday season with exclusive spa savings themed around the 12 days of Christmas. Each day has designated savings from 13% to 24% on holiday gifts such as aromatherapy, soy candles from Get Fresh, and Paddywax candles. In addition, spa services like facials, massages and pedicures have savings to alleviate the traditional stress from the holidays.
"We felt that helping our clients cope with stress during the holidays is extremely important," said Nancy Reagan, owner of Bella Reina Spa. "We recognized that the two hot commodities that are in short supply at the holidays are time and money. If we can give them stress-free shopping and the ability to decompress from stress with aromatherapy or a massage, then we have helped to make their holidays happier."
The spa, on Delray Beach Magazine's hot list for 2013, has appeared in numerous magazines, the New York Times, and most recently was a focus video for success with VOCUS. The 12 days of Christmas promotion will continue through December 24th. The spa's website BellaReinaSpa.com has more information on the 12 days of Christmas promotion and gift cards.
Company Information:
Bella Reina Spa is the leading provider and definitive authority on beauty, wellness and spa treatments in the South Florida area. The spa is dedicated to providing outstanding services and anti-aging treatments, like the non-surgical facelift or the slimming infrared body wrap, to guests with busy lifestyles. Bella Reina Spa was created by Nancy Reagan, a nationally recognized expert in beauty, nutrition, weight loss, skin care and makeup. Nancy and Bella Reina Spa have been featured in the New York Times, WebMD, Les Nouvelles Esthetique & Spa, and PC Advisor for spa industry expertise and business success.