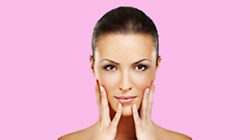 It is an intense facial. I love what this facial does for my client's skin.
Delray Beach, FL (PRWEB) February 19, 2014
Having a facial at Bella Reina Spa has always been more about the results than the pampering, so when this Delray Beach spa created the Bella Grande Facial, the cosmic blend of results and pampering was love-at-first-mask.
This hard-core anti-aging facial is the Rolls Royce of facials, transforming your complexion and fighting visible signs of aging. The workout begins using 27,000 vibrations per second of the ultrasonic microdermabrasion to deeply cleanse and exfoliate the skin. Through a series of masks, mousses, ampoules, peptides, and stem cells, the master aestheticians guide each client through a clinical approach to get the results they want with firmer, tighter and brighter skin.
Other unique features of the Bella Grande Facial include the special spiral friction massage, the vision eye treatment and the sugar scrub arm & hand treatment. Training and creation of the new facial has taken months as the aesthetician team wanted it to be the best anti-aging facial ever.
Karla Parrilla, master aesthetician at Bella Reina Spa, says, "It is an intense facial. I love what this facial does for my client's skin. When they leave the spa, their skin glows." For questions on this ultimate anti-aging facial or to inquire about reservations, please call 561-404-7670.
About Bella Reina Spa: Bella Reina Spa is the leading provider and definitive authority on beauty, wellness and spa treatments in the South Florida area. The spa is dedicated to providing outstanding services and anti-aging treatments, like the non-surgical facelift or the slimming infrared body wrap, to guests with busy lifestyles. Bella Reina Spa was created by Nancy Reagan, a nationally recognized expert in beauty, nutrition, weight loss, skin care and makeup. Nancy and Bella Reina Spa have been featured in the New York Times, WebMD, Les Nouvelles Esthetique & Spa, and PC Advisor for spa industry expertise and business success. To learn more about how Bella Reina Spa is constantly innovating spa services, programs and packages, please visit BellaReinaSpa.com.