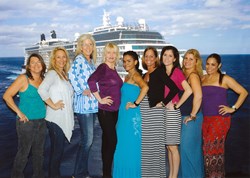 Because of our team approach, our services and treatments continue to be outstanding.
Delray Beach, FL (PRWEB) January 15, 2014
The first week of January for Delray Beach's, Bella Reina Spa team, was spent aboard the cruise ship, Celebrity Reflection. The nine spa professionals set sail from Miami on January 4th to celebrate the spa's success in 2013.
"We had a remarkable year in 2013 and to thank the team, we organized this seven day cruise. Because of our team approach, our services and treatments continue to be outstanding and award-winning," said Cindy Calvagne, Bella Reina Spa Manager. The "spa team" visited Puerto Rico, St. Thomas, and St. Maarten on their seven day cruise experiencing the beaches, shopping and relaxation.
One special day, three of the team visited Magic Ice in St. Thomas, Virgin Islands to check out the ice sculptures and slides with this 22 degree frozen attraction. Other days were spent on the beaches enjoying the balmy weather and white sand beaches.
Bonnie Morgen, team esthetician and massage therapist, was able to find time to have a deep tissue massage in the Aqua Spa. Bonnie said, "It was nice to be on the receiving end of a massage. It has been awhile since I've had one and it really helped me relieve some stress."
The team participated in the cruise line's Amazing Race competition finishing 9th in the competition. The spa will be back to work as usual on Sunday, January 12th offering exceptional facials, massages, and pedicures. This Delray Beach boutique spa is the highlight spot for superior services and outstanding results.
Company Information:
Bella Reina Spa is the leading provider and definitive authority on beauty, wellness and spa treatments in the South Florida area. The spa is dedicated to providing outstanding services and anti-aging treatments, like the non-surgical facelift or the slimming infrared body wrap, to guests with busy lifestyles. Bella Reina Spa was created by Nancy Reagan, a nationally recognized expert in beauty, nutrition, weight loss, skin care and makeup. Nancy and Bella Reina Spa have been featured in the New York Times, WebMD, Les Nouvelles Esthetique & Spa, and PC Advisor for spa industry expertise and business success.