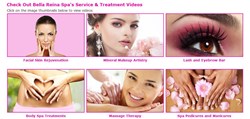 Ignite the Romantic Spa-rkle
Delray Beach, FL (PRWEB) February 11, 2014
Nothing puts the romantic Spa-rkle back into your relationship like a spa day at Delray Beach's award-winning Bella Reina Spa. When the mood calls for romance, the spa has pulled out the Spa-rkle wand for this year's Valentine romantics.
With pink orchids for gifts, organic snacks and candy caramel rooibos tea, Bella Reina Spa has created just the right mood for romance. Whether you are looking for the Signature Bella Massage or the Bella Grand Facial, the spa will surprise you with all of the special touches.
Highlighting this year's Valentine is the Romance blend of aromatherapy. The Romance organic and wild-crafted blend, created just for Bella Reina Spa, combines Patchouli, Mandarin, Grapefruit and Caramon into just the perfect mood setting scent.
For those die-hard romance fans, show him or her the spa-rkle with a spa gift card combined with the Romance aromatherapy blend. Spa gift cards can be purchased online or in the spa by calling 561-404-7670.
About Bella Reina Spa: Bella Reina Spa is the leading provider and definitive authority on beauty, wellness and spa treatments in the South Florida area. The spa is dedicated to providing outstanding services and anti-aging treatments, like the non-surgical facelift or the slimming infrared body wrap, to guests with busy lifestyles. Bella Reina Spa was created by Nancy Reagan, a nationally recognized expert in beauty, nutrition, weight loss, skin care and makeup. Nancy and Bella Reina Spa have been featured in the New York Times, WebMD, Les Nouvelles Esthetique & Spa, and PC Advisor for spa industry expertise and business success. To learn more about how Bella Reina Spa is constantly innovating spa services, programs and packages, please visit BellaReinaSpa.com.