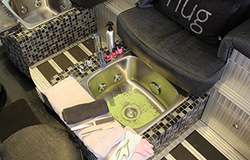 signature Detox Green Tea pedicure is a ten-step process
(PRWEB) March 05, 2014
When Bella Reina Spa, Delray Beach's hot spot for relaxation, decided to "Go Green", it was to celebrate the introduction of the spa's new signature Detox Green Tea Pedicure. "The fact that the "green" introduction coincided with the St. Patrick's Day and March was simply a coincidence", said Stacy Ann Gayle, Master Nail Technician at the spa.
The development of the new Detox Green Tea Pedicure required thorough research in leg and foot circulation. This research led to the discovery that the polyphenols in green tea help not only the immune system, but stimulate increased blood circulation. This increase in circulation creates lighter legs and a overall sense of relaxation.
The new signature Detox Green Tea pedicure is a ten-step process consisting of a soak, scrub, and mask in addition to the special Bella leg and foot massage. For the month of March, Bella Reina Spa has combined the Detox Green Tea Pedicure with the new Keratin Lactic Glove treatment for a special introductory price. For more information on the Detox Green Tea Pedicure or any of Bella Reina Spa's March Shamrock Chic specials, please contact the spa at 561-404-7670.
Company Information:
Bella Reina Spa is the leading provider and definitive authority on beauty, wellness and spa treatments in the South Florida area. The spa is dedicated to providing outstanding services and anti-aging treatments, like the non-surgical facelift or the slimming infrared body wrap, to guests with busy lifestyles. Bella Reina Spa was created by Nancy Reagan, a nationally recognized expert in beauty, nutrition, weight loss, skin care and makeup. Nancy and Bella Reina Spa have been featured in the New York Times, WebMD, Les Nouvelles Esthetique & Spa, and PC Advisor for spa industry expertise and business success. To learn more about how Bella Reina Spa is constantly innovating spa services, programs and packages please visit BellaReinaSpa.com