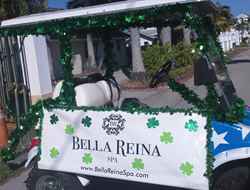 look for our green Bella Reina golf cart
Delray Beach, FL (PRWEB) March 12, 2014
Bella Reina Spa, Delray Beach's premiere day spa, is gearing up for this weekend's St. Patrick's Day parade with a Shamrock Chic themed golf cart. Since 1968, the parade has been a long-standing tradition in Delray Beach, voted "the most fun-small town" in America" by Rand-McNally and USA Today. The annual parade pays tribute to St. Patrick's Day and International Emergency Services.
In preparation for the parade, Bella Reina's normally pink & black theme has been replaced with green as the spa prepares their golf cart float. Spa team members will participate in the parade by handing out gift bags filled with green throw beads, a Bella Reina Spa nail file and a $45 Complimentary Bella Reina Gift Card.
Irish music prepared by the spa's own DJ, TJ the DJ, will blast Irish dance songs to parade goers along the Atlantic Avenue parade route, which goes from the ocean to Swinton avenue. Kinsey Harris, the new VP of Marketing and Sales at Bella Reina, said, "This is our first year in the parade. We felt that it was such a huge event with over 70,000 people, that it would give us an opportunity to show community support"
"Be sure to look for our green Bella Reina Spa golf cart this Saturday, March 15th and your spa gift bags", said Ms. Harris. For more information on Bella Reina Spa, call 561-404-7670.
Company Information:
Bella Reina Spa is the leading provider and definitive authority on beauty, wellness and spa treatments in the South Florida area. The spa is dedicated to providing outstanding services and anti-aging treatments, like the non-surgical facelift or the slimming infrared body wrap, to guests with busy lifestyles. Bella Reina Spa was created by Nancy Reagan, a nationally recognized expert in beauty, nutrition, weight loss, skin care and makeup. Nancy and Bella Reina Spa have been featured in the New York Times, WebMD, Les Nouvelles Esthetique & Spa, and PC Advisor for spa industry expertise and business success. To learn more about how Bella Reina Spa is constantly innovating spa services, programs and packages please visit BellaReinaSpa.com