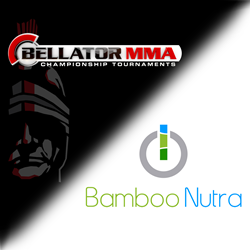 Newport Beach, CA (PRWEB) March 18, 2014
Bellator MMA, the world's largest tournament based mixed martial arts promotion and global health supplement and lifestyle company Bamboo Nutra announced today a new multi-year, multi-faceted sponsorship alliance making Bamboo Nutra the "Official Nutrition and Supplement Partner" of Bellator.
On Friday, April 4th, live on Spike TV, the alliance formally kicks off during Bellator 115 from the Reno Events Center in Reno, NV. Bamboo Nutra will be strategically integrated throughout all live Bellator broadcasts on Spike in addition to activating a host of consumer touch points on-site and in-market during the coming years.
"In addition to the wide-ranging in the cage and on broadcast integrations with our new partners at Bamboo Nutra, we'll also be working with our new partners to go into local communities to empower and inspire kids to be the best they can be," said Bellator Chairman & CEO Bjorn Rebney.
Bellator and Bamboo Nutra are launching a community outreach program called the "Champions Challenge" by going into local schools and jointly talking to kids about awakening the champion within.
According to Leighton Dean, VP of Bamboo Nutra, "We want to challenge the kids to step out of their own comfort zone and do something good for others. With that we are challenging the kids to post videos or write letters with what they are doing differently in their communities, including, and most importantly, showing compassion for others."
"To unite our efforts and tap into the digital realm, we are encouraging the kids to add hashtags to their videos #bellatormma #bamboonutra #championschallenge," said Rebney.
Bellator and Bamboo Nutra recently completed their first community outreach project at Portola Middle School in Santa Ana, California. As part of the assembly, Bjorn Rebney, cage side announcer Jimmy Smith, Cheick Kongo, Bamboo Nutra's life coach Rex Crain and a host of other executives spoke to over 300 students on the power and purpose of reaching beyond your dreams.
"The underlying message we want to deliver to the future of the world is to never quit. Never give up. Decide to be great. Expect more from yourself. Go for your dreams and beyond them," said Dean.
Bellator and Bamboo Nutra will be awarding students with once in a lifetime experiences to attend Bellator events, meet the fighters, go backstage and live the MMA experience.
"At the end of the day, our brands align on many levels – aside from powering our athletes, this relationship marks another very positive step in our efforts to inspire young people to become future champions in whatever they choose to do. And this is a direct alignment with the mentality of our athletes. It doesn't matter where you come from, your religion, your socio-economic status, it's about having a vision, striving for better, and getting up when you get knocked down," said Rebney.
On Friday, April 4th, Vitaly Minakov will look to defend his Bellator Heavyweight World Championship belt against Cheick Kongo during the Main Event.
"The partnership with Bellator was born out of our sponsorship of champion fighter, Cheick Kongo," said Dean, "With Cheick, we have a high profile and accomplished athlete that upholds the values and ideals of the Bamboo Nutra brand. Now with Bellator, we are aligned with a premier organization to help us positively reach millions upon millions of people week in and week out reinforcing the message of living a healthy, fitness based and compassionate lifestyle."
For more information, visit Bellator.com, follow Bellator on Twitter @BellatorMMA, follow Bellator Chairman & CEO Bjorn Rebney @BjornRebney and check out Bellator on Facebook at http://www.facebook.com/BellatorMMA
About Bellator MMA:
Bellator MMA is the world's largest tournament based Mixed Martial Arts organization. Televised to nearly 500 Million homes worldwide in over 140 countries, Bellator's majority owner is entertainment giant Viacom.  In the United States, Bellator can be seen on Spike TV, the MMA television leader. With over 175 world-class athletes under contract, Bellator is home to many of the sport's top mixed martial artists. Bellator's founder & CEO, Bjorn Rebney, is an experienced fighting sports and entertainment executive with a deep commitment to the purity and integrity of the sport of MMA and its athletes.  Bellator's core philosophy is that title shots should be earned, not given. This belief gave rise to Bellator's real sport, tournament-based format, which gives Bellator's tournaments a true playoff feel that keeps the sport true and distances itself from the subjective side of fighting sports found in organizations that utilize a matchmaking/casting formula.  Bellator MMA is comprised of an executive team that includes top industry professionals in television production, live event orchestration, fighter development/relations, venue procurement, sponsorship creation/development, international licensing, marketing, advertising, publicity and commission relations.  Bellator is based in Newport Beach, California.
About Bamboo Nutra LLC:
Bamboo Nutra is an innovative Health Supplement and Lifestyle Company, focused on promoting comprehensive body/mind/life transformation through positive and healthy lifestyle choices. The company's core philosophy is built around instilling key principles into people's lives such as knowledge, education, confidence and compassion, and bringing health and wellness to every corner of the world.
For more information, visit BambooNutra.com, or keep up to date with all the latest news, events and challenges on Facebook at http://www.facebook.com/BambooNutra or on Twitter @BambooNutra. To connect with the Bamboo Nutra evolution add the hashtag #bamboonutra along with #compassionbynature, #poweredbynature and/or #championschallenge to your social pics/posts/videos.
Spike TV:
Spike TV is available in 98.7 million homes and is a division of Viacom Media Networks.  A unit of Viacom, Viacom Media Networks is one of the world's leading creators of programming and content across all media platforms.  Spike TV's Internet address is http://www.spike.com and for up-to-the-minute and archival press information and photographs, visit Spike TV's press site at http://www.spike.com/press. Follow us on Twitter @spiketvpr for the latest in breaking news updates, behind-the-scenes information and photos.