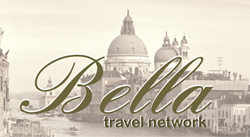 Dallas, Texas (PRWEB) July 10, 2014
Traveling in and of itself can be stressful-the planning, the packing and the traveling can all be chaotic. Bella Travel Network wants the most memorable part of its members' vacation to be the vacation itself.
1. Pre-Plan -- This doesn't necessarily mean an itinerary down to the nanosecond; however, having a rough plan in mind can save time, energy and even money. Bella Travel Network recommends researching the chosen destination and mapping out attractions, shopping and dining ideas beforehand. Making a list of items that need to be packed including snacks, games and power chords is also encouraged.
2. Use Online Check-In when Flying -- Airports can be a little intimidating, particularly during high-traffic traveling times. Most airlines offer online check-ins, which help eliminate some of the busy work and allow passengers to circumvent long lines at the tickets counters. For those without access to a computer, many airports have check-in kiosks.
3. Be Prepared -- Regardless of whether vacationers are traveling by car, train, bus, plane or ship, being prepared for anything can go a long way to alleviate stressors. This may include anything from cancelled flights, to overbooked busses to being prepared for unexpected weather changes. Bella Travel Network knows that unplanned surprises can cause frustration and taint a vacation. Being prepared can be as simple as checking in with an airline and making sure departure times haven't changed. Carrying snacks and entertainment, especially when traveling with children, can help pass the time if delays do happen. It's always a good idea to pack a variety of clothes just in case the weather takes an unexpected turn.
4. Stay Safe -- Unfortunately there are people everywhere looking to make a buck and often it's not by legal means. Bella Travel Network encourages travelers to be on alert and remember to trust their instincts. Some rules-of-thumb include: If a deal seems too good to be true, it probably is; keep wallets and purses in places that make it hard to take away; never use unsecure Wi-fi; and always be aware of surroundings.
Bella Travel Network understands that stress happens and that some things are just unavoidable. Taking some extra time, however, can help minimize some stressful situations. For more information, visit http://www.bellatravelnetwork.com or call (512) 342-2740 today.