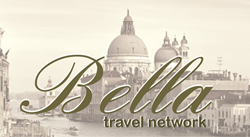 Dallas, TX (PRWEB) July 17, 2014
Bella Travel Network, a leading provider of luxury vacations to people all around the world, knows that for any couple, one of the most looked forward to occasions is a vacation together. Taking time away from stressors and struggles of everyday life to relax and spend time together is a great way for two people who care about each other to bond. But every traveler knows that dealing with long lines, crowded sites, and tight spaces can sometimes be a cause for arguments even among happy couples. Fortunately, there are a few tips that every couple traveling can use to make the most of their vacation this summer. Here are some of the best ways to enjoy a romantic vacation together.
1. Communicate: The best tip is to communicate feelings to a partner rather than assume they are aware of them. If there is conflict, it's important to take the time to express those feelings and to avoid feeling closed off or causing further problems down the road. For example, if one partner feels that an event is uninteresting or will cause difficulty or uncomfortableness, but the other partner is looking forward to the event, the first partner should communicate that, and they might be surprised at their reaction and support of their significant other.
2. Go Solo: If there is a certain activity that one member of the couple doesn't want to do, remember that every waking moment doesn't have to be spent together. In fact, Bella Travel Network shares that splitting up can actually be very beneficial to any couples vacation. Time away from the other, especially on extended trips, will make time together even sweeter. If the lady wants to shop but her husband is ready to just kick back at a sports bar, it's okay to split up for a bit and regroup later to fill each other in on their individual adventures.
3. Relax and Go With the Flow: It's important to take things in stride. If both people are hungry and there are no restaurants in sight, or something else goes wrong with plans, it can cause arguments just because frustrations are high. But the truth is, little bumps in the road are neither persons fault, and playing the blame game will only worsen the situation. Both partners should stay calm, find a solution, and carry on.
Bella Travel Network knows these tips can help any couple come to understandings and avoid any issues while spending time on a summer trip together. For more information and other travel tips, please visit http://www.bellatravelnetwork.com or call (512) 342-2740 today.