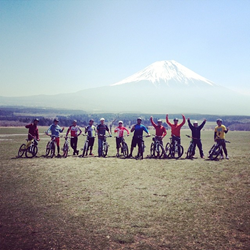 I've set my roots in Whatcom County and look forward to meeting all the locals on the mountain biking scene.
Bellingham, WA (PRWEB) September 04, 2014
Bellingham Simply Singles Ride is a new group in Bellingham, WA aimed to bring singles together for active fun! The new group, led by two-time World Champion Mountain Bike Racer and Pro Mountain biking coach Shaums March takes advantage of the active and unattached in Bellingham and the breathtaking beauty of Galbraith Mountain. Bellingham Simply Singles Ride is hosting the first singles ride on Thursday September 18th at 5pm at Galbraith Lane in Bellingham, WA. Fee of $20 includes basic biking fundamentals led by March, guided trail ride, one beer at Aslan Brewery, entries into all giveaway drawings and tons of fun! All skill levels are welcome. Tickets can be purchased at https://www.facebook.com/events/309456635903866/
"Bellingham is known for the amazing mountain biking on Galbraith Mountain," said March. "Bellingham is also known as a top recreational city. Our aim is to put the two together and get active single people out on bikes to go for sweet rides and meet other local singles."
Bellingham Simply Singles Ride will host rides twice monthly year round and hopes to attract single riders all around the county for fun, adventurous rides.
"I've spent most of my time traveling the world coaching biking," says two-time UCI Downhill World Champion, March. "I've now set my roots in Whatcom County and look forward to meeting all the locals on the mountain biking scene."
"For locals to have the chance to ride with Shaums is unreal!" said Bellingham local and Bellingham Simply Singles Ride Partner Erin Lundstrom. "This is someone who coaches Olympians and he's riding with locals at Galbraith?! This is a huge opportunity for locals!"
In a town filled with recreational activities and people, Simply Singles Ride bypasses the bore of online dating and gets active singles outside for fun and adventure and, as a plus, connects them to other singles in the area.
For more information on Simply Singles Ride please email Lundstromerin(at)gmail(dot)com or visit them on Facebook at https://www.facebook.com/BellinghamSinglesRides or Twitter @BhamSinglesRide
About Bellingham Simply Singles Ride
This is the first event in the Bellingham, WA area for local and active singles to get together for adventurous rides on beautiful Galbraith Mountain with the opportunity to ride with a world champion racer and pro coach. Singles can enjoy beer and conversation after the ride at local breweries.
About Shaums March
Shaums March is a two-time Downhill World Champion and world renowned mountain bike racer and coach. In 1998 he started his own company Mad March, Inc. allowing him to travel the globe doing what he loves-biking and coaching others. Today, March calls Sumas, WA home and is quickly establishing himself as an industry leader with locals. Father of 2, March blends family life and his passion for biking into a successful and satisfying career.