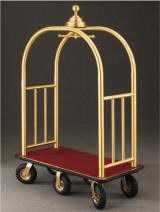 We are more flexible because we do everything in-house and our manufacturing operation is set up to be efficient so that orders can be rushed through.
Hauppauge, NY (PRWEB) October 22, 2013
If you cannot wait weeks and months to receive bellman carts, Glaro Inc. has the solution to significantly shorten delivery timelines. Customers maintain the ability to choose from numerous options to order carts and platform trucks. Glaro Inc., the leader in USA bellman cart manufacturing, announces its Universal Quick Ship Program, which sends bellman carts and platform trucks out the door in a matter of days. If an item is in stock, it ships even faster, according to executives.
A recent interview with Plant Manager, Robert Glass, revealed that "other companies are not able to conduct business this way, particularly when their carts are imported from other countries." Glaro Inc.'s carts are all made on American soil, employing local staff. "Glaro competitors also cannot offer such a broad line with their imported carts. We are more flexible because we do everything in-house and our manufacturing operation is set up to be efficient so that orders can be rushed through," added Executive Vice President Robert Betensky.
In fact, every bellman cart is individually "assembled to order" within a matter days, at Glaro's bellman cart and platform truck manufacturing plant, in Hauppauge, Long Island, NY. Even replacement parts are immediately available. "We are proud of that," says Mr. Glass. "Since 1945, Glaro Inc. has built its reputation by providing unusually prompt service for our dealers and distributors."
The Universal Quick Ship program applies to Glaro Inc.'s full range of carts (of which hundreds of models are available), whether they are economy carts or luxury carts. Bob Betensky says that regardless of a cart's price, every item receives the same level of care. "It does not take any longer to ship a deluxe cart than a Value cart. Orders get shipped immediately once they have met all internal quality control standards."
Glaro's sister line of 'workhorse' platform trucks are manufactured and shipped with the same high standards and speed. Platform trucks are built to transport large quantities of luggage and equipment and are geared towards hotels, condos, college dorms, senior living facilities, and other institutions.
"Quick shipping has always been a priority at Glaro Incorporated. Every employee is trained and works towards upholding this level of service for which we have become known," says Vice President Neal Glass.
Carts and matching platform trucks are available in a range of sizes, finishes, deck coverings, customized logos, other options, and price ranges.
For more information, call Glaro Incorporated at (631) 234-1717.
About Glaro Incorporated:
Glaro Inc. (glaro.com) is a leading USA manufacturer of commercial and consumer aluminum and steel products sold directly to distributors/dealers for almost 70 years. All products ship in 1 to 3 days. Product lines include bellman and luggage carts, platform trucks, waste receptacles, recycling receptacles, smokers' posts and receptacles, crowd control posts and systems, safety barriers, signs, sign frames, directories, menu display stands, coat hanging equipment, coat trees, umbrella stands, wet umbrella bag holders, metal planters, and key drop boxes. The company is known for its quality merchandise and its ability to consistently quick ship all products. The customer service department provides unusually prompt personal service and is sensitive to the needs of dealers and distributors.