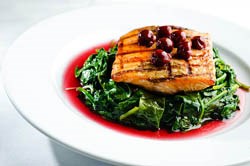 Come in for a truly memorable valentine's Day!
Cupertino, CA (PRWEB) January 31, 2014
This Valentine's Day weekend, Arya Global Cuisine will be providing their customers with a special, romantic weekend, including a four-course dinner and live entertainment.
Friday, Feb. 14, there will be a special four-course dinner menu, which is a treat to all, with dishes like pomegranate pistachio meatballs in our pinot noir sauce. There are also many delicious entrées to choose from, including seafood dishes, pasta, lamb chops and vegetarian delights. The Middle Eastern and Persian restaurant will also have smooth jazz music as well as belly dancing for guests to enjoy for the special holiday.
Saturday, Feb. 15, Arya Global Cuisine will again feature live jazz music and belly dancing and offer a special a la carte Valentine's Day menu with appetizers, great salads and wonderful entrées starting at $19. The a la carte menu will also be available Sunday, Feb. 15, accompanied by live jazz music.
Arya Global Cuisine is the perfect place for couples to celebrate Valentine's Day, as well as for singles to have some fun. Guests can enjoy some good food and good music while celebrating the holiday. To make a reservation, call Arya Global Cuisine at 408-996-9607.
About the company:
San Jose's Arya Restaurant is a Middle Eastern restaurant that features belly dancing, global cuisine, and delicious and exotic Persian and Italian food. With two locations in Redwood City and Silicon Valley/Cupertino, the restaurant is the result of Chef Mike Hashemi's love for Persian and Italian food, as well as his love for cooking and serving people with the best of both worlds. Arya's San Jose banquet rooms are available for every occasion as well as corporate catering and private dining. Arya is the premier Persian Restaurant in Cupertino and Redwood City, California. They are committed to providing each and every guest with superior service and a pleasant dining experience. For more information, visit their website at http://aryarestaurant.com/.