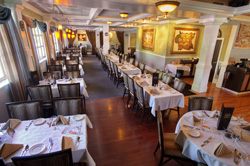 Cupertino, CA (PRWEB) August 18, 2014
As summer draws to an end, it's getting close to that time of year again for holidays filled with family and friends. For those who have been trying to think of the perfect venue to host a large holiday party, look no further. Arya Global Cuisine has banquet rooms in both their Palo Alto and San Jose locations that are perfect for large corporate holiday parties, or even for large families to get together for the holidays.
Guests can book their holiday party now in Arya's famous banquet rooms for an evening full of delicious Middle Eastern food. It's never too early to start planning a holiday party as event venues book quickly for the holidays.
In order to create a perfect event for guests, Arya's offers many different dining options in their banquet rooms. They offer both buffet-style and plated banquet-food packages. These delicious options are inspired by traditional Mediterranean cuisine and can include anything from filet mignon to cioppino. In order to get the party started, Arya's also offers both tray and buffet-style appetizers.
For more information on Arya's Palo Alto banquet location, click here. For a video tour of our San Jose banquet location, click here.
Arya's helps make each company holiday both enjoyable and hassle-free. Arya's is dedicated to providing guests with delicious food, a tasteful atmosphere and pristine service. Don't procrastinate – call Arya Global Cuisine today to book a holiday party!
Call the Cupertino location at 408-996-9606 or our Redwood City facility at 650-367-4939.
About the company:
San Jose's Arya Restaurant is a Middle Eastern restaurant that features belly dancing, global cuisine, and delicious and exotic Persian and Italian food. With two locations in Redwood City and Silicon Valley/Cupertino, the restaurant is the result of Chef Mike Hashemi's love for Persian and Italian food, as well as his love for cooking and serving people with the best of both worlds. Arya's San Jose banquet rooms are available for every occasion as well as corporate catering and private dining. Arya's is the premier Persian restaurant in Cupertino and Redwood City, California. They are committed to providing each and every guest with superior service and a pleasant dining experience. For more information, visit their website at http://aryarestaurant.com.